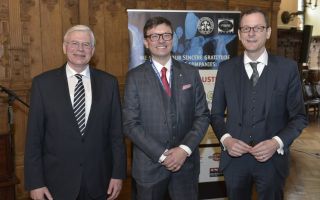 24/04/2018 –

34th International Cotton Conference
34th International Cotton Conference
From the 21st to the 23rd of March, the international cotton industry came together in the historic Bremen Town Hall, under the motto "Cotton Insights".
24/04/2018 –

Entwicklungsministerium
Entwicklungsministerium
2014 hat das Entwicklungsministerium das Textilbündnis gegründet und so einen Wandel zu mehr Nachhaltigkeit in der globalen Textilproduktion angestoßen.
23/04/2018 –

Nachhaltigkeit
Nachhaltigkeit
Eine Stadt mit Konzept! Gegen den Leerstand in der Innenstadt, für eine neue Wertschätzung von Bekleidung gepaart mit viel Spaß und Unterhaltung. ...
20/04/2018 –

Gesamtverbandes textil+mode
Gesamtverbandes textil+mode
Das Mittelstand 4.0.-Kompetenzzentrum Textil vernetzt zeigt in Berlin, welche Chancen die Digitalisierung der Textil- und Bekleidungsindustrie bietet.
20/04/2018 –

Picture Organic Clothing
Picture Organic Clothing
Der französische Outdoor-Spezialist Picture Organic Clothing präsentiert erstmals eine komplett per Strickverfahren gefertigte Ski- und Snowboardjacke