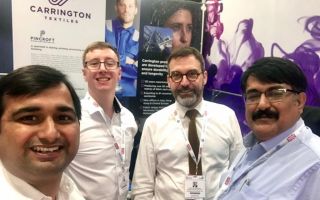 24/07/2019 –

Carrington's target growth in the Middle East
Carrington's target growth in the Middle East
Carrington wants to grow in the Middle East market with new flame-resistant fabrics.
26/10/2018 –

Dornbirn-GDC
Dornbirn-GDC
Circular Economy ist der neue Trend der Textilindustrie. Davon zeugt die 57. Internationale Fasertagung (GDC) in Dornbirn.
08/08/2018 –

Wear It
Wear It
Am 19. und 20. Juni 2018 fand in Berlin das erste Wear It Festival statt. Mit einer Mischung aus Vorträgen, Workshops, Ausstellung, Mentoring-Sessions.