26/11/2019 –
Founders push textile sensors
— auf Deutsch lesen
Sensomative offers smart solutions
The two-man operation Sensomative uses textile sensor technology and pattern recognition to transform passive objects into intelligent systems.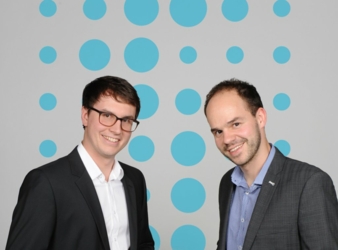 After just four years, the Swiss start-up offering interdisciplinary applications for its systems technology, is already experiencing organic growth without the help of investors.
This basic principle is of interest to manufacturers of niche products (wheelchairs, motorbike gloves and bulletproof vests) as well as high-volume goods (apparel, mattresses and office chairs). When Dr. Roland Zemp (bio-mechanist) and Stefan Plüss (mechanical engineer) fit their pressure sensor textiles inside chairs, socks, beds, shoes and gym mats, they can measure pressure patterns of the human body which are then transmitted as real-time algorithms to a smartphone app, warning users of pressure patterns that are harmful to their health.
"Sensomative wheelchair"
At the 2019 Smart Textiles Users' Forum, Sensomative appeared with a combination of textile sensors and intelligent classification algorithms for the prevention of bedsores. The technology tested by ETH Zurich University comprises a sensor mat, electronics and an app. The app analyses the individual's sitting habits and pressure points, helping to prevent impaired circulation and chronic sores. A smartwatch or smartphone encourages the user to take appropriate action. With a view to going into mass production in the near future, Sensomative is currently collaborating with the international medical technology company Invacare (brand: Küschall). The smart textile offering may well have piqued the interest of automotive producers in Wolfsburg, Stuttgart and Munich, too.