06/06/2019 –
Stars of the Future – Part 4
— auf Deutsch lesen
A look at textile research
About textile developments that fascinate and researchers that make Germany one of the world's leading textile hotspots.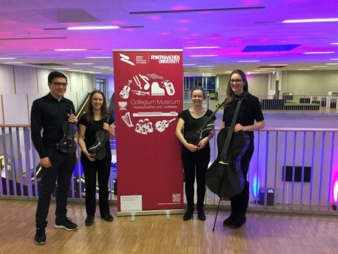 Thomas Gries, head of the ITA textile engineering institute at RWTH Aachen University, has a passion for string instruments. Together with his colleagues, he has developed a double bass which is made from textile carbon fibres and folds away for easy transport.
The Carbon Quartet, which is part of the Collegium Musicum at the RWTH Aachen University, has been performing its own concert series for just under a year. It is enthralling its audiences whilst filling them with admiration for the innovative instruments which, although easily dismantled, are sturdy and have a wonderful sound. No rare woods are used in the making of the instruments. In fact, the double basses are woven from carbon fibres, very much like cloth on a traditional loom.
Germany: world market leader in technical textiles
It is fascinating developments such as these that have turned Germany into one of the world's leading textile centres. 16 textile research institutes employing more than 1,200 textile researchers are driving the technologies and innovations of an entire industry. It is down to their achievements that Germany is a leading force in the development of fibre-based materials and textile composites.
Johannes Diebel runs the Berlin-based research board Forschungskuratorium (FKT) which coordinates the 16 research institutes under the umbrella of the German Textile + Fashion Confederation.
In conversation with textile network, Johannes Diebel states: "Textiles are shaping the modern world." He emphasises that the textiles industry is one of the few sectors in recent decades to have evolved with such speed. Indeed, it would be difficult to find an area in our everyday lives that is not benefitting from the innovative processes and products that the stars of the future are developing at textile research centres around the country. The sustainable use of resources is just one important focus of their work.
Urban mining with textiles
We paid a visit to the German textile research centre Deutsches Textilforschungszentrum Nord-West (DTNW) in Krefeld. Dr Klaus Opwis is considered the godfather of textile urban mining. At first glance, his invention looks rather underwhelming. It appears to be no more than a bland, colourless fabric with a rough surface. But there is more to it than meets the eye: The fibre becomes lustrous because of the materials that stick to it such as gold, the platinum-related precious metal palladium or the rare earth lanthanum – valuable metals that have so far been lost in the wastewater produced by industry. The fibre is capable of recovering them so that they can be used for more LED lights, computer screens and catalytic convertors for chemical processes. A special mixture turns the fabric into a filter. It is a felt made from polyester and impregnated with a special chemical solution. Klaus Opwis and his team refer to the felt as an adsorber textile. Assuming all goes to plan, Opwis expects the special filters from polyester and polyvinylamine to extract from 1,000 litres of industrial wastewater approximately 800g palladium worth more than EUR 20,000.
Textile conductors and sensors
The development of smart textiles, that combine textiles with electronics, is already making a real impact with the emergence of new products and processes developed by SMEs. Be it high-tech gloves for automotive makers, textile touchpads for control machinery or textile sensors for screening components, smart textile solutions often have several origins including: textile institutes such as DITF Denkendorf, FTB Mönchengladbach, Hohenstein Bönnigheim, ITA Aachen, ITA Dresden, STFI Chemnitz and TITV Greiz as well as the development divisions of various SMEs.
The latest trends in applied research and development were unveiled at the 7th Smart Textiles Forum in Bad Waldsee, Germany, at the end of February. They included a contribution to the Internet of Things in the shape of smart textile and fibre composite technologies for use in aviation and aerospace.
By contrast, Peter Brunsberg is working on more earthly developments. The Berlin-based company specialising in backpacks and bags of all kinds has been collaborating with textile researchers in Saxony to make life more difficult for pick-pockets: A protective non-woven inlet around the bag's interior wall sets off an acoustic signal and a smartphone alarm when it is punctured with a knife. This is a useful innovation particularly for couriers and one that is likely to find its way into the market quickly.
Next project: The textile think tank
Johannes Diebel, Research Director at the FKT, coordinates textile research on the front line between science and politics. "Be it smart textiles or textile concrete, medical textiles or new filter technologies, many new processes and products have only come into use thanks to what is known as Industrielle Gemeinschaftsförderung (IFG), a tried-and-trusted, pre-competitive programme funded by the Federal Ministry for Economic Affairs and Energy," reports Diebel, who with a click of the mouse lists hundreds of projects in which stars of the future have become world market leaders. Running for more than 60 years, the IGF programme is unique throughout Europe. It is forever evolving and enables SMEs with no research department to conduct fundamental research. Dr. Uwe Mazura, FKT's Managing Director, is keen to take collaboration a step further: "We can only rise to the challenges of the ever-changing textile industry if companies, associations and science are prepared to join forces and work together. This also includes improving the transfer of findings to industry. Our objective is to create a textile think tank that will secure the future of medium-sized textile companies in their role as world market leaders in innovative processes and products."
The german textile reasearch institutions
The high-performing German textile research institutes are located in the once traditional centres of Germany's textiles industry in Baden-Wuerttemberg, North-Rhine-Westphalia, Saxony and Thuringia. It is largely down to their achievements that Germany's textiles industry, traditionally heavily reliant on clothing, home textiles and fashion, has evolved into the world's biggest producer and exporter of technical textiles. The beneficiaries of these developments are the aviation, automotive and logistics sectors as well as construction, mechanical engineering, health and energy. Smart textiles and fibres with new surface properties are increasingly being used for apparel and home textiles. Textile research is primarily material research, with the main focus falling on new materials and fibre composite materials, coatings, manufacturing and processing technologies, material safety, supply chains, resource efficiency and sustainability.