Artificial intelligence – a hot topic in industry
Almost every digital strategy nowadays involves artificial intelligence (AI). But can AI meet its promises?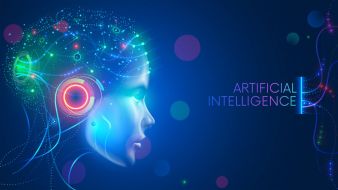 Artificial intelligence provides simple solutions to challenging problems; more and more companies have discovered the technology for themselves and are examining the possibility of using it in their operations. More even than robotic process automation, big data and blockchain technology, artificial intelligence can claim to be a pioneering technology for the future.
What is Artificial Intelligence?
Artificial intelligence is a branch of informatics aimed at creating intelligent machines. At the forefront is the simulation by machines, and in particular by computer systems, of human intelligence processes. Such processes include information-gathering, creating rules for use of such information, and the application of those rules to draw preliminary or definitive conclusions or for self-correction.
In general, the term 'artificial intelligence' refers to the replication of human decision-making processes by means of simple algorithms.
In theoretical discussions, we speak of artificial intelligence in relation to a computer that can readily solve challenging problems which would normally only be solved by human intelligence. A distinction is drawn between weak and strong AI.
Weak AI refers to a system that has been developed and trained for a particular task. Virtual personal assistants such as Apple's Siri are a form of weak AI. Strong AI, also known as artificial general intelligence, has more generalised human cognitive capabilities and is intended to mechanise human behaviour. It can find a solution to tasks it has not previously encountered, without the need for human intervention. It is intended to support the human cognitive process.
How does Artificial Intelligence work in practice?
Fields of application for artificial intelligence are very wide-ranging and AI has thus been able to penetrate everyday life with an unexpected rapidity in the form of digital assistants, cooperative robots, autonomous vehicles and drones. Big data and the American internet conglomerates are driving forward the development of artificial intelligence, supported by ever more powerful hardware and software platforms. These are the tools that machine learning requires in order to be able to process large volumes of data, identify complex relationships and hence learn without explicit programming.
Before long, the first smart predictive systems will be monitoring themselves, offering prognoses and proposing or implementing actions independently. Research is still in the early stages: technological optimisation therefore currently represents a huge added value for users and companies.
Milad Safar, Managing Partner Weissenberg Group
Read more on our german website.
Our author Milad Safar is Managing Partner of the Weissenberg Group, which he founded in 2013 together with Marcel Graichen. Since the beginning of his consulting career, he has developed solutions for the optimization of processes through the use of IT systems for well-known corporations. Milad Safar focuses on digitalization, robotics and artificial intelligence, on which he also gives regular lectures.