10/09/2021 –
Interview with Roland Stelzer on SDG 8
— auf Deutsch lesen
Cotonea commits to fair work conditions
What do fair working conditions look like and how are they implemented at Cotonea? textile network spoke with CEO Roland Stelzer.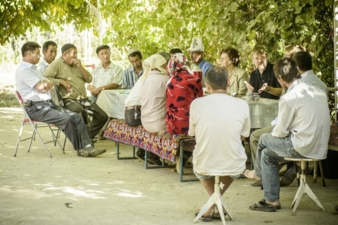 With its Cotonea organic cotton brand, Gebr. Elmer & Zweifel stands for sustainability, ecology and fairness. For decades now, the company has been committed to a sustainable lifestyle and fair working conditions – not only at its site in Bempflingen, Baden-Württemberg, but also, since the opening up of world markets, in its cotton-growing regions in Kyrgyzstan and Uganda. textile network spoke to the company's managing director, Roland Stelzer, about working conditions in Cotonea's production regions.
textile network: What substantive steps has Cotonea taken in the last six years – since the SDGs were issued – to improve working conditions in the cotton-growing areas in Africa and Asia?
Roland Stelzer: Since the two projects that we co-developed were set up, we have visited the sites personally time and again. We talk to those running the farms more than once a month, sharing our thinking, offering advice and helping with problems. There are a lot of details involved. We know the people and the situation in both countries. Think of it this way: long-term relationships and trust are the things that shape our collaboration. They are the basis of stability and they are what ensures that a region can develop.
Strategically, we are pursuing a chain of actions that extends from training courses, advice in the field and fair contracts to support for a secure harvest with appropriate prices.
Since 2004, with the Swiss aid organisation Helvetas, we have been committed to organic cotton production in Kyrgyzstan. We are firm partners of the project in Jalalabad and buy the majority of the harvest there.
Since 2009, Cotonea has been working for fair organic agriculture with the Gulu Agricultural Development Company (GADC) in Uganda. Until 2006 the country was ravaged by a brutal civil war, which of course shattered the employment market. Today, some 40,000 to 50,000 people live off the Cotonea project, which in addition to organic cotton also involves rotations of crops such as sesame, chilli, sunflower seeds and beans.
Both in Kyrgyzstan and in Uganda, our partner organisations offer a number of benefits. The farmers receive free seeds. They don't need to get into debt, nor any other form of dependency. The farmers have a person they can contact at any time for technical advice. The GADC recommends the crops to be farmed in rotation, covering as wide a range as possible so that a huge variety of crops can be offered for sale, in addition to cotton.
On top of the world market price we pay an organic premium that is higher than is generally available. This payment allows the farmers to achieve higher yields through their organic agriculture, and at lower costs, increasing the profitability of a project. In addition, we pay a fair trade premium that goes to a group of farmers. Those involved decide together what the money will be used for.
textile network: How do you ensure adherence to the work standards and social standards in your production areas? Is there regular on-site checking?
Roland Stelzer: Quite apart from the fact that we are often on site ourselves, independent certifying companies monitor adherence to the conditions. They also check that everyone in the supply chain is paid the money due to them.
Cotonea is a holder, for example, of the social responsibility product seal 'Fair for Life' (FFL). Since 2012, the organisation responsible for this, Ecocert IMO, has been monitoring adherence to social standards both on our part and on that of our partners.
Members receive constructive feedback on possible improvements and how other parties are working. The social criteria go significantly further than the core standards of the International Labour Organisation (ILO). They are open to inspection by anyone.
Field officers from the GADC carry out regular checks, and in addition they carry out a form of monitoring of the fields, coaching and certification aids.
textile network: The new German Supply Chain Act is intended to ensure greater fairness and protection for human rights in global supply chains. What do you think of this much-discussed law?
Roland Stelzer: We warmly welcome the motivations behind the law. But the rule saying that in Germany, the party at the end of the supply chain is liable for the whole thing, that's not a good solution. There will always be individual cases that could cause partners from critical countries to lose their contracts.
Large companies will continue to be able to demand confirmation from their suppliers that they are working within the regulations. In China, for example, it is quite common to use agencies that enter into contracts with the west and then distribute them to countries in the production chain – to Bangladesh, for example, sometimes to India, Myanmar, Vietnam, Ethiopia. That's not at all transparent. Not even the names and addresses of those involved are listed, let alone information on certificates, delivery schedules, adherence to prices.
textile network: What does the average working day look like for a small farmer producing cotton for Cotonea? Could you describe a working day for us, to give us an idea?
Roland Stelzer: Well of course that depends on what's happening in the field. The farmer checks the land regularly for pests and disease, and takes any necessary steps. He or she has regular discussions with colleagues in the small group. In parallel, there is also planting and cultivation to be tackled, and food for the family's own needs.
The lead farmers, the ones running the groups, regularly take part in training courses. In Uganda, collecting fresh water is another important job.
textile network: Does Cotonea offer small farmers or their workers specific further education, training, workshops? Who runs them?
Roland Stelzer: The training courses run throughout the year and are divided into modules: from land clearance – that is, transforming areas of land in its natural state into land that can be used – to the sale of cotton and handling the takings. Teaching on environmental themes, calculable income, team leadership and motivation, they're all in there. It can extend over several years until the farmers are successful and are recording high yields at harvest. People enjoy measurable results like these.
Training for the groups is led by their manager, who might be an external field officer from GDAC, for example.
textile network: Do you have ideas for what incentives could be offered to cotton producers who are still using pesticides for their production?
Roland Stelzer: Knowing how to keep pests in check is the name of the game. In Kyrgyzstan, the farmers know how harmful pesticides are and value the opportunity to eat ecologically produced food themselves. Ugandan farmers don't know anything else. Fully ecological agriculture attracts higher prices, too, that's an important incentive.
Herr Stelzer, many thanks for talking to us!