Credit card acceptance becomes more attractive for fashion shops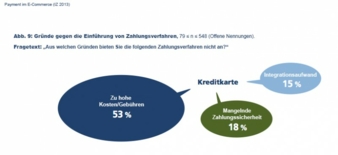 65 percent of ladies jeans and 55 percent of ladies shoes ordered online are allegedly sent back - is it just a rumor? The founders of Zalando confirmed in an interview: "The rate of returns is around 50 percent." According to surveys by ibi research, the average rate of returns for the entire fashion segment is around 26 percent, which is double the amount of the average for all branches. It is particularly annoying for online retailers that, alongside logistics costs, additional costs for credit card acceptance apply with the disagio for cancellation - although the turnover is lost.
Only 49.7 percent of online retailers in Germany offer payment by credit card. (Online payment study by the ECC Cologne and Aschaffenburg University IZ 2013, https://expercash.com/epayment-studies/). In response to the question of why credit card payment is not offered, 53 percent mention the charges involved and 15 percent mention the work involved with integration. (Diagram: Fig. 9 from IZ2013) The rate of abandoned purchases drops significantly if the online shop accepts credit cards. Reducing the complexity involved with online payment is the task successfully taken on by technical service providers for E-Payment, such as ExperCash.
As you know, the costs for a credit card transaction are made up of a fixed fee and the disagio, which is a certain percentage rate depending on the purchase amount. This generally applies even if the retailer refunds the purchase price in case of a return. This means that costs are incurred without any business resulting.
What are the alternatives? According to a study by ibi research, "Returns management in online trading – making the best of it", online retailers estimate that the rate of returns is lowest for advance payment, Sofortüberweisung and cash on delivery. Unfortunately these payment types are not very attractive from the point of view of the customer. The most popular payment type among customers, namely purchase against invoice, is associated with the highest rate of returns. A catch-22 situation: retailers who try to reduce returns with the payment types end up losing customers. Credit card payment is the perfect compromise between the interests of the customer and the retailer. You know that customers who can't find their preferred payment method often abandon the purchase at the checkout.
If payment by credit card is offered, the rate of abandoned purchases in online shops is reduced by an average of 68 percent (ibi Research study "The payment success factor - the influence of payment procedures on your turnover ( www.ecommerce-leitfaden.de), March 2013)! (Graphic: ibi Research, abort rate reduction CC) Furthermore, credit card acceptance is a prerequisite for the international expansion of a shop. Fashion retailers can benefit from these advantages - simply, securely and without higher transaction costs for returns.
As a service provider for online payment, risk management and accounts receivable, ExperCash offers online retailers just the right individualized payment mix and differentiated risk management. Now ExperCash has also developed the branch solution FashionPlus so that online retailers with a fashion range can benefit from the advantages of credit card acceptance despite the higher rate of returns specific to the branch. Disagio no longer applies to returns for retailers. The integration of credit card acceptance in a shop is very convenient with ExperCash. Fashion retailers benefit from the extensive range of services (https://expercash.com/how-it-works/) of technical payment providers, including PCI certification.
According to the above-mentioned study by ibi research on returns management, 40 percent of customers already plan on returning the goods when they place an order. It is interesting that many customers choose to pay by credit card because they see the security of the purchase price being refunded if they return the goods (The return process from a consumer's point of view: which role does the payment procedure play?, ECC Cologne, 2013). The fashion trade should make use of this customer behavior and increase the gross turnover. Retailers who accept credit cards create trust and increase the attractiveness of the online shop from the customer's point of view. More orders mean more turnover and additional returns are just part of the bargain in the fashion branch - but without disagio costs thanks to ExperCash and the FashionPlus offer.
From e-payment to risk management to comprehensive accounts receivable management, ExperCash supports Internet retailers in managing their financial supply chain, even for sales in other countries. ExperCash is a subsidiary of the globally active Payment Service Providers DataCash Group Limited (UK), which is part of the MasterCard Group. As a leading service provider, the company can process all standard payment methods for online retailers, for example, credit card payments, including 3D Secure, giropay, Sofortüberweisung, Barzahlen and SEPA direct debit.
One of the benefits for Internet retailers is that ExperCash covers all the processes involved in online payment transactions from A to Z, even for sales in other countries. Only one company handles the entire e-payment process from start to finish. This saves a great deal in coordination time, prevents any related problems when it comes to process interfaces and reduces costs. Online retailers do not require PCI certification if they use ExperCash iFrame or popup technology. Hundreds of retailers have relied on customised solutions from ExperCash for more than 10 years now.