Designing tomorrow's creative fashion digitally
Automated processes minimize time-consuming administrative tasks, reduce potential for errors, save time and promote creativity.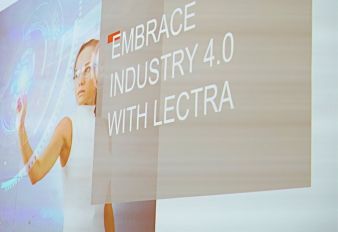 It's an important step to succeed in the fast-changing fashion industry.
In a fashion landscape bursting with retail outlets, brands need to set themselves apart from the competition with unique, top-quality collections at competitive prices. Digital natives expect a vast selection of individual products and permanent collections, while at the same time demanding transparency and responsibility in sourcing and production.
China
The rise of the millennials, increasing digitalisation and Industry 4.0 are all coming together in one of the most rapidly growing countries in the world – China. According to McKinsey & Co, foreign expenditure by inhabitants of the Asia-Pacific region is set to rise to $ 600bn by 2020, and it is anticipated that 75 percent of sales of luxury goods will be to Chinese customers. These young, online customers – and not only the Chinese ones – have high expectations. Brands and their partners therefore need to find ways of developing efficient processes that will allow highly flexible mass production of personalised designs. Lectra customers place their faith in Fashion PLM 4.0, a product lifecycle management (PLM) solution developed specifically for the fashion industry.
Jacqueline Kellner, Fashion & Apparel Marketing Manager CEER Lectra
"To remain competitive, fashion businesses need to improve their supply chains. Fashion PLM 4.0 connects up the entire supply chain digitally," says Jacqueline Kellner, CEER Fashion & Apparel Marketing Manager at Lectra. "Process transparency and up-to-date information are hugely important at every stage of the collection lifecycle. They allow fashion companies to plan economically, to react flexibly to trends, to shorten their production cycles and to produce personalised products."
How can inefficient prototyping and long-winded product approval processes be improved to reduce costs?
Fashion brands need to identify the areas in which they are investing too much money or time, and those on which they ought to be concentrating instead. Given that costs are rising across the entire supply chain, from raw materials to delivery and rents, it is important to know how and where to be making the strategic business choices that will allow them to produce competitive and creative collections. A lot of different pieces of data need to be managed and processed when developing a collection.
Fashion PLM 4.0
Fashion PLM 4.0 provides a central collection point for this purpose where data are standardised and stored, to ensure process transparency and to reduce the potential for error. This allows the pattern-makers and product developers to concentrate on the tasks that add value. What's more, all members of the team have a comprehensive overview of every stage of the collection process, allowing them to keep an eye on costs, sales targets and forecast planning without even getting up from their desks.
How can inefficient prototyping and long-winded product approval processes be improved to reduce costs?
Manual methods are no longer up to the task of delivering the consistency and quality on which brands depend. Paper patterns get lost and non-standardised documents lead to misinterpretations, while constant reinterpretation of styles is simply too time-consuming. Lectra Fashion PLM 4.0 makes specifications of designs and patterns visible throughout the development process, which shortens approval times.
At the same time, it also acts as an archive, allowing members of the team to access data from previous seasons and quickly develop new collections. This avoids the need for the time-consuming compilation and expensive processing of data that are already available. Through the centralised administration of prototype approvals and amendments, managers can rapidly validate products and ensure that they are delivered promptly and economically. They can use the time saved to develop further products instead, offering consumers even greater choice.
How can teams at either end of the supply chain coordinate better?
Bringing a new collection to market requires coordination across many different parties – designers, product developers, suppliers and producers – often working in different geographical areas. Differences in time, language and experience can lead to misunderstandings and mistakes. By implementing processes that provide transparency, a common knowledge base and shared tools, it becomes much easier to prepare samples for production on an industrial scale. Armed with accurate and consistent data, designers and developers are also in a position to make well-grounded decisions about costs and the quality of materials, while product developers are also better placed to understand the designer's vision. Moreover, comprehensive process transparency increases bargaining power with suppliers, and improves profitability without compromising on product quality.
With so much time spent on administration, where is the space for research and creativity?
In order to be able to offer digital natives the variety they expect alongside a high degree of personalisation, product developers and pattern-makers need time every now and then to contemplate, and to seek fresh inspiration. They need, therefore, to be freed from time-consuming administrative tasks. Creativity and technology may seem improbable bedfellows but automation of the right aspects of the development process can actually stimulate ideas and productivity.
Improved data transparency and communication among those involved in the process, together with automation of time-consuming tasks by integrating smart tools such as Adobe Illustrator, Kaledo (design solutions) and Modaris (modelling solutions), allow for better quality management whilst adhering to short deadlines, and promote creativity in product development.