15/11/2019 –
Human interaction replaces programming language
— auf Deutsch lesen
Easy transition to Industry 4.0 with Wandelbots
Wandelbots, the young Dresden-based startup, is being overrun by demand for its textile-orientated digitalisation solutions for industry.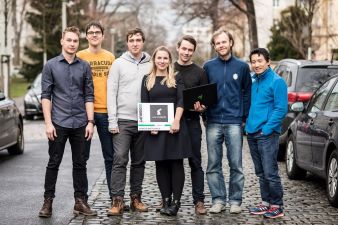 The work of the company's core team – all of them former PhD students – on basic robotic development is raising awareness of the opportunities offered by 4.0 with the slogan "20 times quicker and 10 times cheaper". The major breakthrough for the team, already comprising 64 colleagues, came at the Hanover Fair in 2016. Since then, the deluge of orders, challenges and pilot solutions has continued unabated. Well-known business angels and high-ranking experts are now constantly knocking on the door in Dresden.
Human interaction replaces programming language
The revolutionary thought is that, instead of having to spend valuable time (re-)programming robots, the metal workers can be drilled in new patterns of movement by an employee wearing a jacket fitted with sensors or using intelligent styluses. Using software from Wandelbots, the wearable device transfers the pattern of human movement that it picks up to the industrial robots – "and maybe one day to robots performing housework and care tasks," says Maria Piechnick.
Given that the reprogramming of five robots might currently take a day and a half and cost over €20,000, the added value offered by this new control technology is self-evident. Even small businesses are benefitting from the new development, which is highly flexible and adaptive. In a bakery north of Dresden, for example, a gripping arm trained through a sensoric jacket is now arranging oven-baked rolls on a tray ready for sale.
Other applications that the Dresden-based company has implemented for small and medium-sized businesses include wood grinding and machine-loading. By training robots in this way, staff at Wandelbots are convinced that even small companies will find it easier over the medium term to shift towards batch sizes of one, and thus to remain competitive. The notion of using smart textiles to control robots, which is already being applied at VW and Infineon and has reached even white goods manufacturers and cosmetics producers, is now becoming so profitable that national and international financiers are providing US$ 6m to fund the company's expansion into China and other markets.
Cooperation with textile researchers
Naturally, the software experts are also working with textile researchers on the textile components of their innovative process. The Institute of Textile Machinery and High Performance Material Technology (ITM), for example, which is attached to the neighbouring Technical University of Dresden, is a partner in a joint ZIM ('central innovation programme') project. The objective is to integrate the data and power wiring for the sensors into the jackets using 3D knitting technology.
Contact has apparently also been established with other institutes that have smart textile expertise.