Getzner Textil makes operating sites more environmentally friendly
The experienced seventh generation team of the family-run company is committed to constantly improving their environmental output at all of the Group's sites.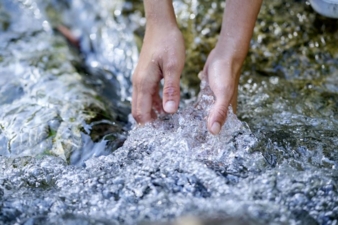 For example, the textile company with 200-year-old roots not only actively contributes to environmental protection, but also lives sustainability as part of the company culture. "We are of course aware that the production process that textiles go through generally requires a high use of energy, water and chemicals," explains Roland Comploj, Chairman of the Board and CEO of Getzner Textil AG, self-critically and continues: "However, all our processes are constantly subjected to close scrutiny and everyday procedures are closely examined: How can energy use be reduced? How is the wastewater treated? What chemicals are used? Today, we can proudly say that no other manufacturer offers sustainability at this level."
A living commitment to Bludenz as a business location
The traditional Vorarlberg company has been working for years to continuously reduce its heat, water and electricity consumption. On the one hand, this can be achieved by using the latest technologies, and on the other, through the ongoing modernisation and upgrading of already existing plant and equipment. For example, Getzner has been able to reduce the specific heat requirement in production in Bludenz by more than a quarter since 2009 through targeted measures. For its outstanding commitment, the company received awards from "klimaaktiv" – the climate protection initiative of the Federal Ministry for Climate Protection, Environment, Energy, Mobility, Innovation and Technology (BMK) – in both 2014 and 2018. In addition, Getzner Textil received the globally valid ISO 50001 energy management certification from TÜV Austria.
A forward-looking, active environmental policy helps Getzner Textil to secure its location in the long term. Raw material processing follows the strictest requirements of environmental protection: The products are certified according to Bluesign, Oeko-Tex Standard 100 and Oeko-Tex STeP. Since 2018, fashion fabrics from Getzner have also been entitled to carry the "Made in Green by Oeko-Tex".
Electricity from own hydropower, district heating for the region
Getzner is one of the pioneers of power generation and electricity supply in Austria. As early as the end of the 19th century, the former hydroelectric power plants were converted to generate electricity and new electricity plants were put into operation. Today, the company's own electricity plant comprises four active power plants in Bludenz and Bürs, which supply the entire electricity consumption of all Getzner companies. In 2001, Getzner Textil AG also commissioned its own district heating network. "Since then, we have been supplying heat to numerous public buildings in the immediate vicinity of the headquarters as well as the local outdoor and indoor swimming pool, Val Blu. A sustainable project with a triple win-win situation that is good for the environment, customers and Getzner Textil as an energy supplier. The total CO2 savings achieved by the district heating network are around 1,000 tonnes per year," says Roland Comploj.