Hermes-OTTO International celebrates 50th anniversary
In November 2016 Hermes-OTTO International celebrates its 50th anniversary. In 1966, the Otto Versand opened in Hong Kong its first sourcing office in Asia.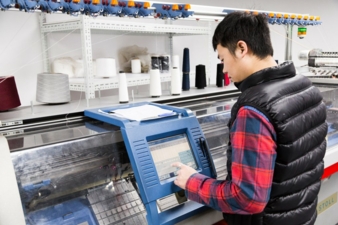 In the meantime, Hermes-OTTO International has successfully developed into a global trading and service organisation that is currently the second largest in the world in terms of sourcing. Having started off with just five workers, the company now boasts 1,400 employees at its 20 sites. By the end of the 2016/17 financial year, H-OI will have shipped over 200 million items for the first time. In addition, the company is expecting to grow sales by around ten percent in the current financial year.
Proud of the developing tradition and successful achievements
Michael Dumke, CEO of H-OI on today's jubilee: "We are extremely proud of our developing tradition and our successful achievements in what is an ever-changing sourcing market and a market that is, by definition, subject to fashions and trends. In order to be successful in this increasingly global competition, you need flexibility, agility and a direct line to the customer. And it is just this that has made us stand out as a retailing partner since the outset. We are pleased to have been able to grow with our clients over the decades, developing something sustainable together."
Hermes-OTTO International has a client base that includes both companies from within and outside the Otto Group. Roughly 80 percent of sales are made up of clothing and textiles, with hard goods accounting for the remaining 20 percent. In the past, H-OI has successfully managed to boost its market business worldwide. The transformation process is still under way. One of the key challenges in the industry is the digital change and its impact on flexibility, speed and service. As a consequence, a product development team has been based in Hong Kong for the last two years. Besides monitoring trends and conducting market research, the team develops its own print designs and product programmes, which it then provides to its clients via its online platform. H-OI's clients – often global players themselves – can use the online access to supplement their product ideas, independent of their location, even at short notice.
Fast fashion
The company is also well positioned in the field of 'fast fashion'. Its own product development is supported by a 'sample room' in Dongguan, helping to substantially shorten the manufacture of samples. On top of this, H-OI is well represented in traditional fast fashion markets, such as Turkey. "China will continue to be the largest market for the time being," emphasised Dumke. "Alongside this, India, Bangladesh and Turkey are growing. Vietnam, too, is becoming more and more interesting, just like the new markets of Cambodia and Myanmar." Even countries in Africa are making their mark, being served mainly through the initiative Cotton Made in Africa with which the Otto Group supports sustainably-managed cotton farming.
Since 2015, the H-OI subsidiary ASTRA Supply Chain Services has been conducting additional quality checks and social audits for its clients in the sourcing market. The skills the wholly-owned subsidiary of the Otto Group has built up in this segment over five decades have since then also been made accessible to clients who do not procure items through H-OI so far. By outsourcing these audit and quality services to an independent subsidiary, H-OI is addressing another target group, thus placing even greater emphasis on the issue of social responsibility.
"With all these initiatives, we are looking to target profitable growth in the future and to strengthen our client base. To achieve this, we hope that the current tense geo-political situation will remain calm and free international trade will continue. This is something I am hoping for in our best mutual interest," said Dumke.