"Runs like Swiss clockwork"
The 3C Group from Rheda-Wiedenbrück – the heart of the German upholstered furniture industry – is one of the largest suppliers of upholstered furniture to the German and European furniture trade. Behind the three Cs are its two major sales divisions, Candy and Carina, and the Contract division. Today, 3C manufactures its collections in four of its own production facilities in Poland and Slovakia. Production is for the German and international market. From the first sketch to sample production, production and logistics, everything remains with one source.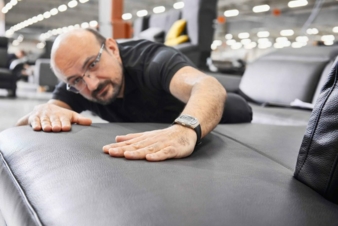 And business is booming. Founded in 1991, the group has been growing steadily for years and has positioned itself for the future with targeted investments in state-of-the-art production technologies. Today, the 3C Group employs around 200 people at its headquarters and 1,800 in Poland and Slovakia. Digital technologies and a high degree of automation, for example in fabric and leather cutting, are a matter of course. The high level of digital expertise combined with top-quality upholstery craftsmanship is then also one of the reasons for the company's continued success. The first fully integrated cutting lines were set up as early as 2012.
Easy integration into existing workflows
The textile or leather covers are cut to size on state-of-the-art cutting equipment. This includes the latest digital cutting technology from Zünd, for maximum production flexibility and waste efficiency. A Zünd G3 L-2500 cutter was recently commissioned at the 3C Lind plant in Krupina, Slovakia. One of the goals was to sustainably increase cutting capacity, explains Franz-Wilhelm Walter in conversation. Walter is a member of the company management and responsible for the areas of production and IT: "Increasing capacity was one of the objectives of this investment, which was incidentally achieved. More important was and is the fact that Zünd cutters can be very easily incorporated into existing workflows. This is an important factor in our highly networked and integrated production cells. Combine that with the fact that we haven't had to adjust our planning structure in the slightest."
The initial spark for the investment, however, was provided by another issue, namely the handling of sensitive data. In the course of digitization, all templates have also been digitized and are stored digitally on local servers (proven technology). This has the great advantage that analog stencils no longer have to be stored. The question now arises as to the correct, i.e. secure, interim storage of this data. About this Walter says: "We have had intensive discussions with those responsible at Zünd about the correct handling of sensitive data. Their cutting solutions have an open system architecture. On the one hand, this has the already mentioned advantage of their easy integration into existing workflows. However, this also means that Zünd does not give us any specifications when it comes to data handling. This is an enormously important point for us. In short, we were looking for a partner who ticks similarly to ourselves. And we wanted a partnership based on stability. We found both at Zünd."
However, the fact that those responsible for cutting technology chose Zünd was also due to the cutting systems themselves as well as production reliability and availability. About this Walter says: "The Zünd G3 Cutter is also convincing across the board in the area of machine reliability. The same applies to the quality in cutting and its overall productivity – combined with low demand for consumables and wear materials. And last but not least, we have experienced very professional project support from Zünd and have the highest confidence in their competencies."