09/09/2019 –
An insight into the Step by Oeko-Tex certification
— auf Deutsch lesen
Loftex is getting greener step by step
Loftex, a leading towel manufacturer in China, gives an insight into its Step by Oeko-Tex certification.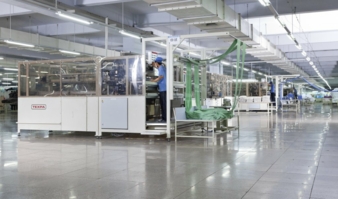 Loftex is a leading towel manufacturer located in Shanong, China. It combines all processing from spinning, weaving, dying, bleaching, printing, and finishing right up to final warehousing at five production sites with 5,000 employees. Since its foundation in 1980, the company has now developed into one of the world's largest towel manufacturers supplying over 30 countries. Loftex is currently the chair member of China Home Textile (Towel) Commit-tee and sets the national standards on towels in China.
What are your reasons for becoming Step certified?
Step by Oeko-Tex is one of the first accreditation systems with global awareness and credibility in the end to end sustainability area. Besides asking for sustainability, our consumers now demand authentication. Oeko-Tex certification is the gold standard which delivers a clear message to consumers.
Our top management reviewed the marketplace for independent, verifiable, recognizable and effective certifying bodies, and found only Oeko-Tex to be suitable for both retail and consumer acceptance. Step certification has the most comprehensive and dynamic analysis of a business's extent of sustainable management. With six modules covering all aspects from environmental performance to social responsibility and quality management, its evaluation and scoring system is one of the most competent and independent in this area. It is also highly credible and well accepted in both B2B and B2C markets.
What innovative technologies are installed in your facilities to enhance efficiency, save resources, reduce consumption, encourage circularity, and reduce costs?
- Innovative technology to eliminate the use of PVA in the spinning process resulting in less water, electricity and steam consumption and less pollution to the environment
- Recycled PET programme as better substitutes for traditional PET – estimated 500 tons of recycled PET used in 2018, equal to 26,303,854 plastic bottles
- Upgraded air conditioning impellers to reduce resistance and installed frequency converters to reduce power consumption (2,949,120 KWh and 3,071 tons of CO2 emissions each year)
- Recycling of condensed water from dyeing and drying processes (reduction of 7,731 tons of steam and 100,000 m³ of water consumption and 2,722 tons of CO2 emissions each year)
How does the Oeko-Tex certification scheme help you in communicating your success in sustainable production with your stakeholders and can it help in communicating your performance and target setting with your buyers?
We work with our retail partners, many of whom are located in Australia, to include Oeko-Tex certification logos on the product packaging and have led the home textiles industry in this implementation. These actions have the combined benefit of educating both the retailer and consumer.
What are the major challenges in getting your facilities Step certified? And how did you overcome these?
Having a clear understanding of the standards and collecting the required information. Oeko-Tex requires numerous data and parameters for evaluation and it covers all aspects of the business. To ensure all information is collected and monitored continuously, a special task force was established to focus on various projects.
Does the management team see the positive changes after implementing the STeP system in your facilities?
Step helps to determine our positioning on sustainability management and shows the areas for future improvement. As an example, in September 2014 Loftex received its first Step certification (which was also the first certificate issued globally). Amongst all six modules which we achieved with the highest level, the score on "Environmental Performance" left us with more areas to improve. Since then, we have focused on the most important opportunities and set our priorities, commitment and targets.
In 2015 we engaged with McKinsey & Company for the RedE program which analysed the efficiency of each process/equipment on our premises and the data was used as a guidance for future directions. In 2016 over US-Dollar 7 m was invested to upgrade our wastewater treatment system which saw our capacity doubled. In 2017 we participated in the "Project Gigaton" initiative which aims to reduce one billion tons of greenhouse gases from the global supply chain by 2030. With these continuous efforts in 2018 Loftex received Walmart's Sustainability Award, which is issued to a supplier with the highest achievement in sustainable management.
What are the next steps for your sustainable production journey?
We aim to reduce our energy consumption by 20% by 2030 (compared to 2016).
Wastewater Treatment:
- Proposed total wastewater recycling capacity = 5,000 tons/day;
Solar Power & Generating Electricity:
- Evaluating structural roof modifications to install more photovoltaic power and heat collection.
Sustainable manufacturing and products:
- Eco-friendly sustainable fibers which are earth friendly
- Dye-free products which reduce chemical usage while saving water & energy
- Plant dye technology (PDT)
- Low temperature dyeing technology
Sustainable Supply Chain Management:
- Share our energy efficiency practices to our supply chain, encourage them to promote sustainable development and set priority sourcing policy
- Use NGO IPE tools to standardize our supply chain and correct environmental violations
Is there an increasing demand from retailers & brands in Australia and the other countries you sell to for Step certification and Made in greem by Oeko-Tex?
Yes definitely. In recent years the issue of sustainability has grown at a great pace in the USA, Europe and Australia. Nowadays retailers can see that sustainable development is an important source of competitive advantage. As a result more and more retailers are requesting their suppliers to achieve more sustainable business models and Step certification sets a perfect standard for businesses who want to contribute in the area.