25/02/2020 –
1st International Conference on Cellulose Fibres, Cologne
— auf Deutsch lesen
Nova Institut hits the mark with conference
With 210 participants and 15 exhibitors from 26 different countries, the first conference on cellulose fibres exceeded all expectations.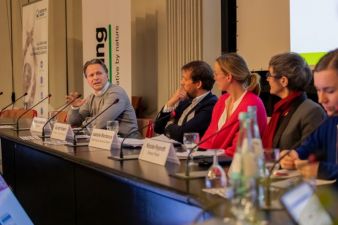 The focus of the conference was on markets, technologies and sustainability – and especially alternative cellulose feedstocks. Cellulose fibres are a success story within the textiles market with a cumulated annual growth rate (CAGR) between 5 and 10 percent over the last ten years – similar growth rates are expected in the next decade. This makes cellulose fibres the fastest growing fibre group in the textile industry and also the largest investment sector in the bio-based economy worldwide.
The entire cellulosic segment, including viscose staple fibres and filaments as well as acetate tow, accounts for about 6 percent of the world market. However, this segment has continuously gained weight thanks to dynamic growth rates of viscose and lyocell fibres that succeeded to outperform all other mainstream fibre types in each and every single year after the financial crisis. The challenge now is to achieve a balance between the ongoing capacity expansion and the growing demand – to avoid over capacities, but also to cover the growing demand of the big brands. The high growth rates are driven by the demand for natural fibres (and bottlenecks in cotton), the microplastic problem and possible bans for plastic fibres. All three drivers will continue to play a significant role in the future development of the sector.
The conference covered the entire value chain from the lignocellulosic feedstock, dissolving pulp, cellulose fibres – such as rayon, viscose, modal or lyocell and new developments, to a wide range of applications, woven textiles (clothing) and non-wovens (wipes and technical applications). All these sectors have significantly gained in dynamics over the last few years. The sponsors of the conference, leading producers of cellulose fibres, confirmed this positive market development:
Jacky Sun, from the Communication and Sustainability department of Sateri (China), global producer of viscose fibres:
"Cellulose fibres are natural and biodegradable and have immense potential to meet global textile demand and consumer needs in an environmentally sustainable way."
Josef Innerlohinger, head of global R&D department at Lenzing (Austria):
"There are many exciting developments going on – like textile recycling or new technologies and applications – and there is a growing demand for sustainable fibres made from renewable materials. So, I see a huge potential for cellulose fibres in various fields. But there are also some potential obstacles, which may hinder developments, where a strong cooperation is needed to overcome these topics."
Sustainability
Life cycle assessments show that modern cellulose fibres have a significantly lower environmental impact than petrochemical fibres or cotton with its artificial irrigation and heavy use of pesticides. But this is not enough, as Nicole Rycroft from the environmental organisation Canopy (Canada) pointed out. In its strategy, Canopy stresses that wood for cellulose fibres may only be obtained from certified sustainable forestry, but it is even more important to use alternative feedstock sources. It was fascinating to hear in various presentations that high-quality cellulose fibres can be obtained from recycled textiles, cotton waste, agricultural by-products and even used toilet paper (in the sewage treatment plant). Thus, future cellulose textiles will meet the high demands of the recycling economy.
This year's conference presentations will be available in early March at http://www.bio-based.eu.
In 2021, the "2nd International Conference on Cellulose Fibres" will take place in Cologne from 2 to 3 February at the same venue.