Sponsorship contract with Sebastian Preuss
Global Nylon 6.6 Producer Nilit Announces Sponsorship Deal with Kickboxing Pro Sebastian Preuss.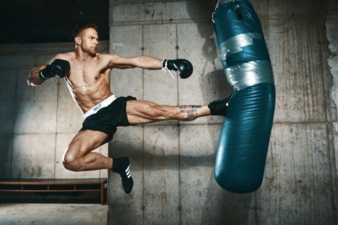 Nilit, the world's leading manufacturer of high-quality nylon 6.6 fibers, has entered into a sponsorship contract with Sebastian Preuss, the amateur world champion, professional European champion and multiple German and Bavarian champion in kickboxing. The 27-year-old Preuss joins the twelve-time world champion "queen of kickboxing" Marie Lang as athletic brand ambassador for the company. During training and competition, Preuss and Lang wear functional yet comfortable combat outfits made of Nilit´s speciality fibers. In the future, their feedback will help the company develop and test new products.
WKU world champion
At 1.91 meters, and weighing in at 90 kilograms, Preuss has reached his declared goal to become WKU world champion for the first time on April 30th in Munich in a spectacular fight against the Greek Charalampos Klados. In a fight of just three minutes he conquered the victory with superiority. The young German has already attained the amateur champion title in Thai boxing and, this past February, became the WKU European champion for the first time as a professional, in a fight lasting just 20 seconds.
"We'll have a lot of fun with Sebastian and I'm sure he's among the best in the world," said his coach and manager Mladen Steko, who personally trains him twice a day at his Munich boxing center, Frankfurter Ring. Sebastian Preuss is not just a gifted professional sportsman. Also a master painter, he launched his own company with a few employees in Munich. To arrange the timeconsuming boxing sport with his daily tasks as an entrepreneur, his first training starts at 5 o'clock in the morning, the second one in the evening after work.
Preuss's multitasking skill, dedication and work ethic fit in nicely with Nilit's commitment to high-quality products that deliver multiple benefits. "If world champions like Marie Lang and Sebastian Preuss are convinced of the performance and quality of our fiber products in their sportswear, this is a confirmation for our fibers on the highest level. We appreciate the input and feedback from the experiences of these successful athletes," says Pierluigi Berardi, VP of Marketing for Nilit. Today, the forty-plus-year-old company operates globally, with manufacturing operations and marketing offices in key regions such as Europe, USA, Turkey, Latin America, Asia-Pacific and China. Renowned brands incorporate the innovative fibers in their collections.
Nilit nylon 6.6 fibers
Nilit is the only nylon 6.6 producer investing significantly in product development, marketing and technical innovation. Nilit nylon 6.6 fibers are inherently softer, sturdier, more durable, moisture absorbent and resist odor better than other synthetic fibers, making them perfect for activewear, athleisure and casual sportswear. Nilit performance yarns are engineered to deliver the added value and functionality that athletes need: Nilit Breeze has a cooling effect for enhanced comfort in warm environments, Nilit Heat keeps you warm in cold conditions or during cooldowns, while Nilit Aquarius keeps you dry when you sweat. Nilit Innergy stimulates blood circulation, energize cells and reduce the development of cellulite.
Sebastian Preuss (GER/Munich)
Age: 27
Weight: 90 kg
Size: 1,91 m
Gym: Steko´s Sports center, Munich
Trainer: Pavlica and Mladen Steko
Fights: 19 fights, 19-0-0, 16 KOs
Titles:
As Professional:
WKU European Champion -90 kg
As Amateur:
2015 ISKA Amateur Weltmeister
2016 Vize World Champion in K1 und Muay Thai ISKA
2014 German ISKA Meister in Thai boxing
2014 Bavarian Championship 1st place MTBD
2012 Bavarian Championship 1st place MTBD
2010 Bavarian Championship 2nd place MTBD
Training clothing and combat outfit:
From the collection royal thirteen, Design by Marie Lang,
Nilit
Nilit is a world leading manufacturer of high quality polyamide 6.6 fibers for apparel and performance products. Founded 40 years ago in Israel, the company today is the world's biggest polyamide 6.6 producer with manufacturing sites and marketing activities in key markets like Europe, North America, Turkey, Latin America, Asia-Pacific, and China.