15/11/2019 –
Stars of the Future – Part 6
— auf Deutsch lesen
Start-ups meet SMEs
The team at the Textile+Fashion Confederation is committed to connecting young start-ups with the 1,400 or so SMEs in the industry.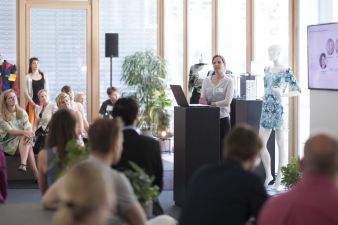 When Dalia Hasan was recently travelling around India again, looking for new production sites for her sustainable collection, people were impressed that the founder from Bonn had just been selected as Start-up of the Month by the German Textile+Fashion Confederation (Gesamtverband textil+mode). The entrepreneur's new company trades under the name of Green Textile Solutions. Her workwear for hospital and care staff is made exclusively from natural fibres.
Dalia Hasan presents her business idea at various trade shows. She exhibits together with other start-ups at the pavilions organised by the Textile+Fashion Confederation, enabling her to forge new and important contacts with the textiles industry. The team at the Textile+Fashion Confederation is committed to connecting young start-ups with the 1,400 or so SMEs in the industry. To achieve this aim, the association regularly organises pavilions at trade fairs, events and networking meetings.
A year of Tex Started – the Textile+Fashion network for start-ups
The Tex Started network was established around a year ago. Mareike Giebeler of the Textile+Fashion Confederation set it up, investing all her energy in the project and utilising her contacts in the start-up scene: "When traditional SMEs come together with start-ups, people often speak of two worlds colliding." Based on her own experience, however, she believes that their worlds aren't actually all that far apart.
In conversation with textile network, Giebeler notes: "SMEs and founders are often made of the same stuff. Both are open to change, and both know that innovation is the future. The young and dynamic founders often have completely new ideas, which combined with the SMEs' experience creates the best parameters for promising partnerships." The digital association Bitkom recently conducted a survey of more than 300 start-ups. It found that the vast majority of German start-ups work together with established companies. Bitkom sees this kind of cooperation as extremely positive. The findings show that 4 out of 5 start-ups (79 percent) collaborate with companies and 3 out of 5 (60 percent) even develop new products and services together with established companies. The Bitkom survey concluded: cooperation between start-ups and SMEs and major corporations is not only the best way to promote start-ups, but it is also helping to advance digitalisation in Germany!
"Tex Started meets Industry"
The "Tex Started meets Industry" pitch, staged by the Textile+Fashion Confederation as part of its first-ever PolitFashionNight in Berlin, was fully booked down to the last space. A good dozen exciting start-ups came to the German Fashion Lounge to present what the future holds for textiles. Founders Kai Müller and Sven Batista Steinbach, for example, unveiled a 3D avatar on a free app for generating body measurements. Clothing tailored to precise body measurements – the idea certainly has mileage!
"We're offering something that no-one else in the world can do," states a confident Kai Müller, CCO of Aiveras. "Our concept is about creating made-to-measure, sustainable fashion that is produced on the spot and in compliance with customer wishes; in effect, it's a fully automated bespoke tailoring service." The young founders have identified a niche that has huge potential for automation in the fashion industry. Aiveras has developed an innovative sewing robot for the purpose. From the customers' perspective, the process works as follows: They simply record their personal measurements on their smartphone, pick the design and fabrics and "voilà!", the garment of their choice arrives by post a few days later. Aiveras hopes that its fully automated bespoke tailoring service will enable production to return to Europe. Our concept, say the founders, will allow every customer to wear their very own collection.
"Innovative start-ups are the drivers of structural change," states Germany's Minster of Economic Affairs Peter Altmaier. The federal government recognises that start-ups open the door to disruptive technologies and business models, they add pace to the trialling and launch of new products and breathe new life into industry with their dynamism and agile approach to work. On the other hand, SMEs have so much to offer young founders: years of experience in sales and management, an in-depth knowledge of the industry and an established network of suppliers and customers. As a result, SMEs can be the perfect partners for scaling new businesses and a catalyst for start-ups wanting to access the marketplace.
Potential for both sides
The network has already borne fruit for the young company Foursource: "Building contacts with representatives from business and associations was crucial for us as a start-up. Networking with other companies is central to the success of our platform," explains Godecke Wessel, Managing Director and Founder of the Berlin-based start-up, which now employs 65 staff. Equipped with an innovative Matching function, the digital sourcing platform connects partners in the global fashion and textiles industry: buyers and manufacturers can use the platform to launch a targeted and filtered search for partners, whom they can then contact. Reputed German fashion brands are already using this platform as part of their sourcing strategy.
Anja Merker, Managing Director of the SME 4.0 Centre of Excellence textil vernetzt at the Textile+Fashion Confederation:
"Collaborating with start-ups gives SMEs new opportunities for their own business, particularly in the context of digitalisation. The issues facing entrepreneurs are forever evolving and many disruptive ideas are emerging, ideas that are calling into question, if not replacing traditional business models. It's important that SMEs have a hand in shaping this process. Having the ability to identify innovative technological trends early on will continue to be an important factor for success in the future. In large corporations, collaborations are already common practice. They maintain their own founder teams, incubators and much more. If necessary, they buy up entire start-ups simply to gain an innovative boost. SMEs, on the other hand, are forced to find different pathways. That's why we, as an umbrella organisation, offer a variety of formats and networking opportunities."
Dr Walter Erasmy, Managing Director of the regional association Verband der Nordwestdeutschen Textil- und Bekleidungsindustrie:
"Collaboration between start-ups and industry offers huge potential for our sector. As associations, we must try to keep our members informed, we must kindle more interest in this topic and pave the way for new networking opportunities on both sides of the fence."
Tex Started is looking for the Start-up of the Month
Tex Started created by the Textile+Fashion Confederation is a network for innovative start-ups in the textile and fashion industry. Its objective is to facilitate partnerships and to support innovative new companies.
Every month, a young company has the opportunity to present itself to the industry on the association's website, through Facebook and Twitter as well as in the digital Members' Magazine.
Applications should be submitted HERE.