12/08/2019 –
No friend of microplastic
— auf Deutsch lesen
Startup Guppyfriend
The Guppyfriend washing bag has been making headlines – even on the BBC – as the first pragmatic solution to microplastic pollution caused by laundry.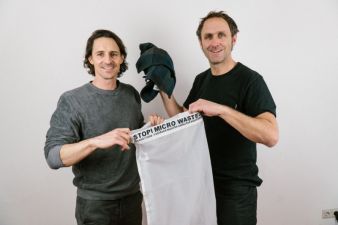 Since its market entry three years ago, the Guppyfriend washing bag has been making headlines. The innovative bag allows consumers to reduce their personal micro-plastic input, caused by fibre shedding through washing.
Nevertheless, the overall trend continues to give little cause for celebration: the average German produces 38kg of plastic waste every year. According to a study conducted by the environment agency (2015), up to 30m tonnes of plastic (up to a tenth of total annual production) end up in the oceans. Especially dangerous for the sensitive ecosystems are the microplastics formed when products break down. Such microplastics have already been found in the food chains of hundreds of species.
The numbers for Germany alone are a cause for great concern:
Contributors include shower gel and exfoliation products (500 t/a), the washed-out synthetics from manmade fibres (40-400 t/a), tyre abrasion (60,999-111,000 t/a) and the loss of plastic pellets used in the manufacture of manmade materials (21,000-210,000 t/a).
Collect-Discard-Learn
Guppyfriend's basic product which entered the market in 2016 following a crowdfunding campaign, is intended to trigger a change in attitudes. The anti-plastic drive is raising awareness and is being supported and stoked by explanatory videos, washing instructions, interactive activities for school children as well as nature activities held, for example, at the "Stop! Stations". Here regional groups of children, teenagers and adults are shown how plastic disposal on shores, beaches, in lakes and in forests can be avoided.
How does microplastic come about?
What effect does decomposing plastic have on flora and fauna in water? How can individuals avoid creating such waste? Such questions are not only raised but are also answered by Guppyfriend's creative and unique forms of learning. "We invest the profits from the washing bags in the 'Stop! Micro Waste' initiative," says Alexander Nolte. Similarly, the other Guppyfriend designs are definitely not about creating "sustainability marketing effects," which, in his opinion, are often only a façade. The Berlin-based company will soon be aiming to launch a further sustainable solution, following a new crowdfunding campaign.