Sustainable Textile School 2017
Over 30 international textile experts visit Chemnitz for the first Sustainable Textile School to come.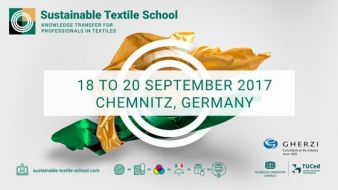 Over 30 international specialists from across the textile industry will gather in Chemnitz from September 18th to 20th 2017 for the premiere of the Sustainable Textile
School. Chemnitz University of Technology and Gherzi Textil Organisation will cooperate with many international, national and regional partners to bring this idea to live. During three days experts from research and industry will share their knowledge about how the various businesses across the textile value chain can be transformed towards a sustainable approach. To foster knowledge diffusion and train future generations of textile experts, not only researchers and practitioners will have the opportunity for fruitful exchange, also students will have the chance to participate through a special sponsorship.
The factor of sustainability, more important then ever!
The factor of sustainability in the textile industry has increased in relevance for consumers. Sustainability may and will therefore become an important criterion and competitive
advantage for the manufacturers in the textile industry. For this reason, Gherzi group decided in cooperation with TU Chemnitz to bring to life a Sustainable Textile School in which the attention of students and professionals would be further drawn to this subject with instruction from experts.
The sustainability discussion in the textile chain has progressed far in the last decade. Most of the brand manufacturers have by now decided to take up the subject and use it for their own purposes in the meantime, not only to develop further sales and unique selling points, but also to design their global supply chains cost-efficiently, productively and sustainably.
TU Chemnitz and Gherzi group believe that this trend is no longer stoppable and will certainly become the decisive factor for the innovative and cost-oriented textile industry. This assessment gave rise to the plan to develop an event series for international professionals and students from the textile chain in the next few years that is to become a central marketplace of innovation and further training in the area of sustainability for the textile industry. The focus is on a Sustainable Textile School that will enable professionals and students from all branches of the industry to have a close look at all value-added stages under the focus of sustainability and to derive the resulting tasks in a company.
Please find detailed information about the program and the location Chemnitz on the #STS2017 website
The movie to the event watch Here