27/11/2017 –
International Conference on Textile Coating and Laminating
The TCL2017 took place in Berlin
Over 26 years, the ITC has built a reputation as a vital meeting place for the worldwide coating and laminating industry.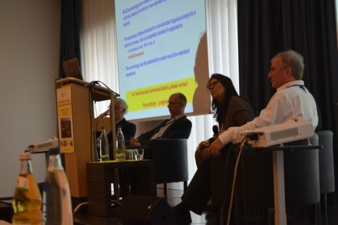 The Conference Director is William C (Bill) Smith, Principal, Industrial Textile Associates, USA, who originated and developed the conference series. This event with successful meetings in Cannes, France; Orlando, FL, USA; Valencia, Spain and Prague, Czech Republic now took place in November also in Berlin, Germany.
What is happening in the industry today?
Very different from an academic research meeting, TCL is a venue for practical presentations focussing on what is happening in the industry today and what will happen tomorrow. Supplemented by intensive discussion sessions actively led by the session chairs, TCL is the event for senior managerial, technical and marketing staff from the international coating and laminating industry.
Last year's conference in Prague proved a great success with those who attended, with very great feedback and comments from both delegates, exhibitors and speakers. 96% of attendees rated the meeting good or excellent.
Speakers from senior positions in some of the most influential companies in this sector from around the world gathered in Berlin on 8-9 November 2017 to present to delegates.
The presentations given over the two-day conference highlighted the drive for individual, cost-effective and sustainable products keeping consumption of water, chemicals and energy low. New concepts and techniques were described to achieve these aims, which sparked lively and informative discussions during the forum sessions and which continued during the breaks in and around the exhibition area and at the Evening Reception.
Participants agreed that TCL2017 was a valuable and unique opportunity to co-locate different strands of the global industry together in one venue.
One delegate, Chia-Hsun, Su of Wideplus International, Taiwan, said "I benefitted from purchasing all the proceedings of TCLs from 2010-2016 and enjoyed attending TCL2017 very much. Many of my daily working problems have been solved by this information and thanks again for your persistent efforts for the last 26 years."
Yvonne Heinen-Foudeh, Gerber Technology agreed, "Thanks to International Newsletters for making Gerber part of TCL2017: Excellent speakers for an agenda focusing on innovation and future-oriented topics, high-calibre delegates from all over the world, an interactive, contemporary conference format and all of that in a pleasant perfect work environment."