30/04/2019 –
Series: Stars of the future – Part 3
— auf Deutsch lesen
Paving the way ahead
Remaining competitive. Working efficiently and flexibly. Finding skilled staff. These are just three of the challenges facing SMEs as they embrace the digital transformation in the textiles industry.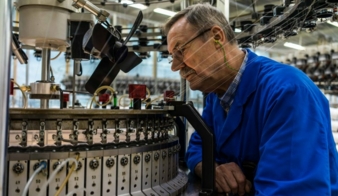 Digitalisation is changing the world of work like no other development of our time!
Small and medium-sized businesses (SMEs) in the textiles industry are asking themselves how, in times of demographic change and skills shortages, they can successfully attract staff, provide them with ongoing training and encourage them to remain loyal to the company.
Not surprisingly, further training is gaining importance in the current climate.
Anja Merker, Managing Director of the textiles-specific SME 4.0 Competence Centre Textil vernetzt
"This is where we come in. Since in today's digital world, humans and machines are working together more closely than ever before, solid expert knowledge has become key," explains Anja Merker, emphasising the importance of immediately involving staff – the stars of the future – in all matters relating to company innovation. As one of 25 Competence Centres emanating from the SME Digital Initiative, launched by the German Federal Ministry for Economic Affairs and Energy, the group of five partners led by the Textile + Fashion Confederation, is equipping SMEs for the digital revolution.
Karl Peter Fritz, Project Manager of the Textil vernetzt partner Hahn-Schickard
"We don't just want to create the technical parameters for these companies, we also want to equip the staff with the right kind of expertise," As a result, Textil vernetzt offers a range of qualifications and staff training opportunities, providing guidance on working with assistance systems such as tablets or augmented reality goggles (AR).
Staff at the centre
Ditmar Schultschik of Gruschwitz Textilwerke AG confirms: "Digitalisation can only be implemented in collaboration with the staff." Working with Textil vernetzt, his company recently drew up a road map for the digitalisation of its production. Likewise on the cards are the retrofitting of machines with sensor technology and the introduction of a computer-aided assistance system for final inspection. Again, the company is keen to draw on the expertise of the Textil vernetzt partners to achieve these goals. For Schultschik and his company, "The digital world does not mean we want to axe jobs but that the jobs we have require higher qualifications." Consequently, the yarn maker from southern Germany is proactively involving its staff in new processes, giving them extra motivation "to have an open mind towards the new qualifications needed."
Peter Brunsberg, Managing Director of bagjack, a bag manufacturer with a production facility in Berlin, is pursuing a similar strategy. He has set his sights on transferring simple processes to machines which will free up his staff for new, more complex tasks. "I need staff who are capable of developing new ideas and designing processes," states Peter Brunsberg, continuing, "this is the only way for them and the company to grow." Bagjack already makes use of tablets to accelerate internal procedures. They are predominantly employed for internal communication or to solve unanswered questions quickly and efficiently using a project sketch, for example. "This enables every member of staff to benefit from the knowledge of others," states a satisfied Mr Brunsberg.
Breaking down barriers
The partners organised within Textil vernetzt provide SMEs with initial insights into the digital developments available on the market. Digital solutions are demonstrated using actual case studies in Aachen, Berlin, Chemnitz, Denkendorf and Stuttgart. Regular lab tours are additionally held for SMEs, industry members, tradespeople and students. The events cover both general areas of digitalisation and – depending on demand – more specific questions tailored to the needs of entrepreneurs.
Usually, companies initially attend one of the laboratory tours whilst gaining an overview of the opportunities offered by digitalisation. In hands-on workshops with the companies and staff, the Textil vernetzt team then ascertains where possible problems may lie, tailoring the training programmes to the specific needs of the textile companies. Besides on-site events, the centre also offers webinars. "The aim, of course, is to find the best possible way to work with the digital solutions available," concludes Karl-Peter Fritz.
Experiment with data glasses
Staff who have never used digital applications before can attend the ITA textile technology institute at RWTH Aachen University and experiment, for example, with a pair of data goggles. How does it feel to wear them and what can they achieve? To find out about the latest advancements in automation technology and robotics, staff can engage with colleagues at the STFI textile research institute in Chemnitz. By contrast, the DITF institutes for textile and fibre research in Denkendorf show how clothing and bandages can be "tailored" around the body of an avatar, that is, the virtual image of a person, using a computer program. Colleagues at Stuttgart-based Hahn-Schickard are currently installing a sensor wall in an injection-moulding lab, which explains the technical components and how they work together. Using their mobiles or tablets, visitors can scan the QR codes on the viewing wall to access background information on the components directly from the Textil vernetzt website. "It's about breaking down the barriers felt by companies and staff towards technology, so the emphasis is on: Experimenting! Experimenting! Experimenting!" states an encouraging Ms Merker.
"Digitalisation isn't rocket science"
The different event formats offered by Textil vernetzt which include industry dialogues, trade fairs and lab tours, have been attracting widespread attention: in the first of three project years, the Competence Centre staged almost 300 events, reaching out to more than 2,000 members of staff at SMEs. "It's fantastic that the solutions shown on the lab tour are specifically tailored to SMEs, highlighting low-cost and open-source approaches," states Thomas Zocher of thoenes Dichtungstechnik GmbH in Klipphausen, Saxony, after a workshop at STFI. David Stolz of Heinrich Essers GmbH & Co. KG in Wassenberg, North-Rhine Westphalia, who attended a lab tour at the ITA, draws a positive conclusion: "I left the workshop feeling smarter than when I went in. Above everything else, it rid me of my fears and showed me that digitalisation isn't rocket science."
Given the positive response, Textil vernetzt is planning a wide spectrum of events for the coming year. According to the head of Textil vernetzt, even just a minute change can often have an unexpectedly positive effect: "The introduction of digital solutions doesn't always have to be complicated. Even small steps can bring about massive change." The events, therefore, address not only companies that are yet to embrace the digital revolution but also SMEs that have introduced their first few applications. Besides the conference "Textil macht's vor: Arbeit 4.0 und Künstliche Intelligenz in der Praxis" ("Textiles show how it's done: Work 4.0 and Artificial Intelligence in Practice") on 16 May 2019 at the Techtextil trade fair in Frankfurt, the centre is also staging a road show this year. The partners organised within Textil vernetzt are taking their exhibits on tour, bringing their technologies to the German textile centres of Baden-Württemberg, Bavaria, North-Rhine-Westphalia, Saxony and Thuringia. "We're going directly to the entrepreneurs. In doing so, we hope to be able to answer initial questions from everyday entrepreneurial practice," states Ms Merker.