Pitti Filati: An even newer lightness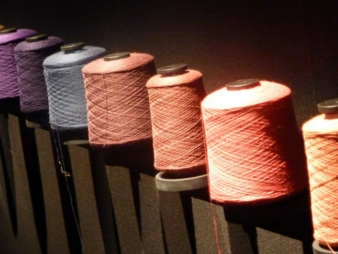 High-quality natural fibres paired with delicate elegance, voluminous 3D structures and subtle glossy finishes will define the yarn season in Autumn/Winter 2016/2017. Lightness will play a central role in this. Even the most voluminous variants are as light as a feather. Evolution and change are the defining characteristics of the Spazio Ricerca trend forum. Indeed, something urgently needs to be done to counter the looming Sword of Damocles that hangs over the Italian yarn industry.
According to the Sistema Moda market research institute, Italy ended the year 2014 with a loss of 2 per cent on total sales of 2.9bn Euro. Overall, the demand for "Made in Italy" yarns was simply too weak. As before, the driving force was wool, which made up more than 80 percent of sales, followed by cotton with 15.6 percent, and then linen with 3 percent. The prospects for 2015: In the first three months of the year, exports fell once again by 4.1 percent while imports, on the other hand, saw a slight increase of 1.2 percent.
However, trade show director Raffaello Napoleone sees "a number of reasons to be more than satisfied." The strengths of Pitti Filati lie in its innovative offerings, which are comparable to those of a research laboratory and provide a highly unique insight into future fashion trends. He may be right in this regard, especially given the positive trend in the number of attendees, which rose by 8 per cent compared to the previous year.
The new yarn season is characterised by a new definition of luxury. New surface structures, even lighter volumes, and surprising fantasy effects shape the overall image. Lightness plays a central role in this, as even the most voluminous variants are as light as a feather. The season is defined by the idea of combining natural materials in unprecedented ways with respect to colour and surface structures.
Contrasts in feel, volume, surface and delicateness are in demand, from super-fine and voluminous, three-dimensional and flat, matt and glossy, hairy and smooth. Naturalness, traditional craftsmanship, the allure of soft, super-lightweight materials, innovative technologies, as well as the safe familiarity of a timeless classic all characterise the upcoming yarn season. Wools in highly unusual combinations for high-performance yarns with total easy-care properties are in keeping with sport's ubiquitous entry into the world of fashion.
The colour palette is shaped by mystical, dark foundations. Black surrounds colourful constructs, specifically to strengthen them, while grey seems to unite the colours. Particularly bold colours appear even more vibrant because of the dark base. Light pastels tell true, winter fairy tales, whereas powerful shades of red provide a sense of passion. A palette of natural tones from the shades of a Nordic forest to warm, spicy tones represent peaceful, winter scenes.
Presented for the sixth time, the award aims at forging links between the creative potential at international design colleges and the innovative products from the Italian yarn industry. The prize money of 2,000 Euro was won by Ng Siu Mui from Hong Kong Polytechnic.
[Anna Blum]