Best Pacific: perfect casual bra
Best Pacific helps pick the perfect casual bra with unveiling of Lycra Bra Fabric Finder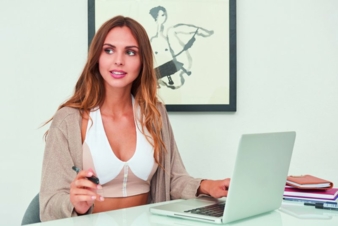 Best Pacific, one of the world's leading providers of lingerie materials from China, is helping consumers pick the perfect casual bra with the revealing of the new consumer-centric Lycra Bra Fabric Finder.
Casual - the most exciting areas in the bra market
"Casual is one of the most exciting areas in the bra market. It is also where the combination of vision, innovative technology and Invista's marketing power can make all the difference when it comes to emotionally connecting well-fitting casual bras with a woman's femininity," said Dilly Zhang, General Manager, Best Pacific International Holdings Limited.
The new "BFF" consumer initiative builds on the original Lycra Bra Fabric Finder B2B program launched in 2017, which was created to help designers easily identify the best fabric construction and add functionality to any casual bra collection. While the list of participating mills is global, Best Pacific has built the most comprehensive collection of qualified fabrics.
"The launch of the 'BFF' program marks another milestone in Best Pacific's journey to increase the confidence of discerning consumers by creating bra fabrics that allow women everywhere to be authentic and natural without compromising on comfort," said Zhang.
 Catering to casual
"As the preference for casual, more versatile and comfortable products grows, the quality and performance of the fabrics used are increasingly critical. The Lycra Bra Fabric Finder enables women to readily identify casual bras that can deliver the comfort and functionality they are looking for – whether that is in leisure garments with natural shaping, everyday wear and active comfort with power shaping to define their curves," said Christine Wahle, Marketing Manager Intimate Apparel and Swimwear Lycra brand.
Invista's "BFF" Lycra Bra Fabric Finder places fabrics into one of three end-user categories, depending on comfort and support levels:
Active delivers high support but medium comfort.
Everyday means a balance of support and comfort.
Leisure calls for medium support and high comfort.
"BFF" also defines bras in terms of their shaping level:
Natural produces a softer more natural breast shape, while Power indicates stronger shaping to define the wearer's curves.
This approach makes it easier for bra designers to narrow down their choice of fabrics and create garments for optimized functionality. It also makes it simple to precisely label garments so women can choose the exact shape, support and comfort level they want.
"Let's face it, bras can be a girl's best friend or her worst enemy. Some casual bras, without underwire depend primarily on fabric to do the work. They can feel comfortable, but lack shape and support. With the new "BFF" programme, consumers can be confident that when they select a bra made from a great fabric, they won't have to compromise," Christine Wahle, Marketing Manager Intimate Apparel and Swimwear Lycra brand, adds.
 Open to upstream and downstream customers
The Lycra Bra Fabric Finder "BFF" program is open to upstream and downstream Invista customers who are looking to grow their business in the emerging casual bra category. After lab testing and certification, they are eligible to access the "BFF" consumer branding.