Digitalisation complements manual work
Ahrndt, a manufacturer of products for interiors, is renowned for its exclusive upholstery. In 2017, Ahrndt fully digitalised its material cutting processes with a Zünd cutter.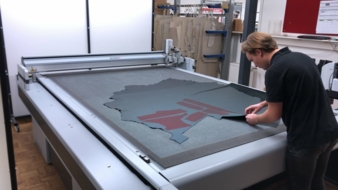 From red dashboards and alcantara interior panelling to flameproof racing seats and custom-made leather seats: Ahrndt fulfils almost every wish a customer could have – in a both personalised and bespoke manner. The company applies labour-intensive manual processes: all materials are cut by hand and contours are predominantly made by placing cardboard templates on the materials.
Until early 2017, this was how cutting was handled at Ahrndt. These processes changed, however, when Nina Ahrndt entered the family-run business and chose this production step as one of her first digitalisation projects. The problem was that handling cardboard templates had become increasingly complicated due to the growing number of different models and variations. Precise cutting takes a lot of skill and practice and was starting to fall short of clients' needs.
Digitalised cutting processes
It was originally Nina's father, Gernot Ahrndt, who had the idea to introduce digitalised cutting processes. The master saddler and company founder advises a large automotive company who has already digitalised its cutting operations with cutters from Zünd. Ahrndt was so impressed with their precision and power that he decided to invest in a digital cutting system himself.
According to Nina Ahrndt, every millimetre counts for newly developed products, prototypes and similar items: "Our department 'Ahrndt Development' carries out development work for many of our customers. As a modern company, it is hardly feasible for us to send our final cutting templates as cardboard cut-outs. Instead, we now transmit them as digital files at the push of a button – it's very fast and very simple." Where templates need to be changed and adapted (which happens regularly), the computer software can make the necessary adjustments far more easily than was the case for the cardboard templates. Furthermore, efficient use of materials is a big talking point as leather is a very expensive raw material. Digital cutting machines contain software and projection systems which help to position cuts on the material to minimise waste.
We want to be able to remain competitive
Even traditional companies like Ahrndt, which rely on handmade custom work, cannot ignore the digital transformation: "We want to be able to remain competitive in the years to come. But this is only possible if we see digitalisation as an opportunity and use it to our advantage," explains Nina Ahrndt. "Our employees have experienced the new cutter as a very reliable and exact tool that helps rather than hinders them, and it hasn't led to any job losses. We appreciate the machine's advantages and its cutting precision, which in turn makes life easier for our leatherworkers and sewers." Small triangles which are used to mark sewing points, for example, are now cut into the leather with Ahrndt's new machine. In the past, the markers were applied by hand in pen but had often already disappeared by the time the cuts reached the sewing room.
Nina Ahrndt is convinced that digitalisation helps improve manual work rather than replacing it: "We're now able to offer highly customised, hand-made and unique products and sizes that are not readily available on the market. We can now fulfil our customers' wishes more precisely than ever before."