16/01/2020 –
Wicket 1: Against fashion waste
— auf Deutsch lesen
Climate protection instead of business as usual
Jess Fleischer and Andreas Langhorn fight against surplus production and textile waste. For low return quotas and against overproduction.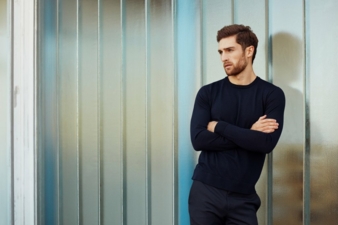 In 2018, the apparel industry produced more than 92 million tonnes of waste. This makes fashion one of the five most environmentally harmful industries in the world. In addition to the textile waste created during production, the environment is also burdened by high return rates and surplus production. Jess Fleischer and Sten Martin Jonsson have found a solution to these problems in clothing company Son of a Tailor and are demonstrating how sustainable the fashion industry can actually be.
Overproduction and high return quotas are the biggest problems of the fashion industry
The volume of clothing being produced has doubled since the year 2000. At the same time, almost 40 percent of textiles entering the production process end up as waste and never actually reach the consumer. Over-production and textile waste are just two problems directly linked to the high demand for fast fashion. Although numerous fashion labels these days release up to 24 collections per year, the production conditions in which they are made have barely changed.
Sustainable fashion from Son of a Tailor
Established in 2015, the company sells bespoke T-shirts, which are only made to order. An algorithm, developed from the data points of 30,000 men, calculates the ideal size for each customer. The only details needed are the customer's height, shoe size, weight and age. This guarantees that every customer receives the correct size right from the start. As a result, returns have almost become a problem of the past, which is impressive considering the company has more than 50,000 customers. The innovative start-up is now extending its range to include a zero-waste sweater which is being financed by a Kickstarter campaign.
Given that Son of a Tailor only produces to order, it is never left with excess stocks that can no longer be sold. In addition, the zero-waste sweater avoids textile waste as it is produced on a 3D knitting machine: Whereas conventional clothing production results in up to 21 percent waste, the proportion of fabrics used unnecessarily is slashed to less than one percent.
Jess Fleischer, CEO and Co-Founder of Son of a Tailor:
 "We founded Son of a Tailor because we believe the fashion industry has to be better – for its customers, the environment and for the people involved in production. It isn't enough to expect consumers to improve their buying habits. It's much more important for the industry itself to reduce waste and to produce only what is actually needed. It's time we had a rethink about the materials we use whilst adapting production to the technological opportunities available to us."