FSC arrives in the fashion world
Whenever you see the symbol for sustainable forest management – the little tree with a tick – fashion is not usually the first thing that springs to mind. Not yet anyway!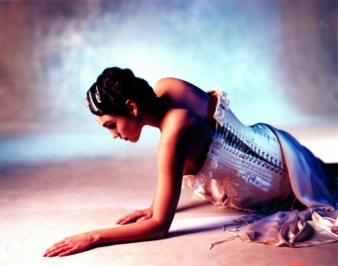 Even so, FSC-certified materials have already become a permanent part of the fashion world. They can be found in a diversity of different products and along all stages of the production chain. In fact, the textile supply chain already boasts 230 Chain of Custody FSC Certifications worldwide. Leading the field is Italy with 65 certifications, followed by China with 64 certified companies. Germany already has ten certified companies in the textile industry whilst Austria has two. In 2019 alone, 134 firms around the world were awarded certification in this category.
Sustainable packaging and storage
Euro Brand Management GmbH provides support to footwear makers (e.g. Puma and Geox), wanting to switch their supply chains to sustainable FSC-certified materials. This choice not only minimises their carbon footprint, but it also cuts costs by reducing the amount of packaging used. Euro Brand Management optimises their clients' packaging by employing FSC-certified materials, reducing packaging, and selecting better printing processes. The FSC-certified tissue paper from Seaman, for example, has emerged as a climate-friendly alternative to the polybags widely deployed in the storage of garments. For many firms, price tags, hang tags and shopping bags made from FSC-certified paper and cardboard are already "state of the art". These days, reputed companies are committed to setting their own sustainability goals.
To cite just one example, H&M makes an important pledge on its website. Its aim is to ensure that 100 percent of the wood used in its products, including man-made cellulose, originates from sustainably managed, FSC-certified woodland by the end of 2025.
FSC-certified rubber and yarn
Slightly less known than FSC-certified packaging are innovative, sustainable materials such as FSC-certified viscose and rubber. FSC Certification can be awarded to all kinds of wood and bamboo-based MMCFs that are used in the textile industry: viscose, Lyocell (Tencel), Modal, cellulose acetate (Naia). These materials are found in home textiles, technical fibres, nonwovens and in apparel.
FSC wood fibres and FSC textiles can also be blended with other non-wood-based fibres and fabrics. The list includes, among others, polyester, nylon, polyamide, elastane, cotton, cupro, hemp, linen, wool and silk, etc. Such products can only be awarded the FSC Mix label.
Renowned fashion brands are increasingly demanding FSC-certified materials – which is why Enka, the first FSC-certified supplier of textile viscose filament yarn, only offers yarn with FSC Certification.
Other FSC pioneers include Ethletic whose sneakers are designed with a sole made from FSC-certified natural rubber.
Martin Kunz, Co-founder of Ethletic:
"Because there wasn't a sustainability label for rubber, we started working on creating one ourselves. Thanks to this initiative, the Sri Lankan natural rubber Ethletic uses is now certified by the Forest Stewardship Council for sustainable forestry management – a global first."
The sneakers are available online through Avocado Store and Avesu. Many products are already being made from FSC-certified rubber, such as footballs, household rubber gloves, party balloons, neoprene suits and much more.
In September 2019, design brand Masai Copenhagen was the first Danish fashion brand to be FSC-certified. Previously, all of Masai's stationery was FSC-certified but the fact that the wood-based textiles will also be certified as part of Masai's sustainability and CSR drive is an outstanding achievement. A large proportion of the company's collection is made from wood-based viscose fibres. Plans are in the pipeline to add the first FSC-certified Masai styles to the autumn collection 2020.