09/01/2017 –
Quality Garment Network Days 2016
— auf Deutsch lesen
A top event in two senses
For the fifth time now, Veit GmbH invited visitors including sponsors to its Quality Garment Network Days (QGND).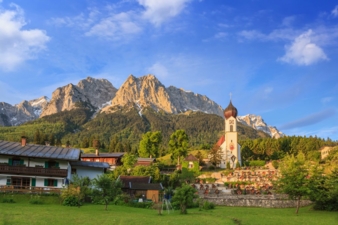 The guests included travelling engineers and managers in the fields of quality control, technology and production. Over 100 attended the event at the end of October in Grainau, an idyllic village at the foot of the Zugspitze mountain.
Sustainability
Andreas Bayer is responsible for product safety at CHT R. Beitlich GmbH, a company producing specialist chemicals in the town of Tübingen. He gave an interesting overview of the statutory regulations and market requirements relating to chemical regulations, safety at work and environmental and consumer protection, focusing on sustainability. "Meeting the steadily increasing demands whilst being successful in the field of sustainable agents and dyes for textiles," said Bayer, "is a balancing act." It was not only the sustainable product itself that was important, he continued. Sustainability should be regarded as an action – that is, a continuous development process aimed both at the present and at the future. Further food for thought was provided by various networking discussions. Under the leadership of Armin Griesbeck, of Clinton, and Jörg Spölstra, of men's fashion company Wilvorst Herrenmoden, participants discussed ecology, economics and social affairs. The conclusion of one such discussion was that since there is currently no specific standard across all process stages of the supply chain that adequately covers social and ecological aspects, manufacturers needed to use a combination of several standards.
In his workshop Dr Dietrich Bock, a specialist in the field of contract processing in the trouser market, tackled subjects such as reductions in the use of water and energy resources, and discussed the question of how to design processes in production facilities more sustainably.
Taking menswear production as an example, another workshop involving Günter Veit and Petra Gehlhaus, both of Veit, undertook a market comparison and discussed in detail additional criteria including costs, quality, accessibility and safety, subsidies and staff structures.
Product development
What products can be sold today and in the future? And how should they be developed? Answers to these questions were provided by Mara Michel, of fashion agency futurize, and Roland Schuler, Director of Technical Product Management at fashion retail chain Peek & Cloppenburg. Mara Michel, who is a designer, took a look at the customer and elaborated on what would be selling in the future and where: what thoughts, what designs, what products can we use to tempt our customers tomorrow? New shapes? More colours?
What was important here, said Michel, was empathy with the customer and a reassessment of the age structure, because "biological age has no relevance nowadays." Target groups had become STYLE groups, each with their own codes; and "collections must comprise 60% fashion items and a maximum of 40% basics." Currently, though, collections are composed of 90% basics, "which is why women aren't buying anymore – they have enough of those."
Her conclusion: "More fashion rather than clothing. More colour for certain target/style groups."
Directly related to the matter of correctly defining target groups is the fit and quality of the product – subjects to which Roland Schuler devoted his attention. In the case of Peek & Cloppenburg's own-label products, for which amongst other areas he is responsible, there is a unique mix of different styles. This is founded on development in relation to target groups and here, too, the subject of sustainability has a part to play. The fit of particular items of clothing, for example, could be sustainable by means of a modular system of product development, such as having an enduring, uniform fit for each label, thereby achieving a high (and sustainable) level of customer satisfaction.
Textile care instructions represent another aspect of product development in its broadest sense. The materials used, the processing and similar matters determine care characteristics, which are generally provided to the customer by means of care symbols. Birgit Jussen of Quality Matters, spoke about correct markings and the consequences of incorrect labelling or failure to care for products in the right way.
The next QGND will take place on 18–20 October 2018.
Birgit Jussen