Intelligent and functional workwear
NFC technology from smart-TEC makes Debrunner products intelligent and customizable.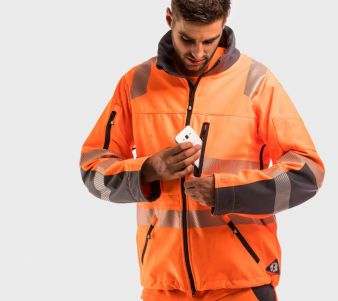 Quality, safety, attention to detail, design and functionality are all united in the Bluewear product line from Debrunner Acifer. The high-quality products from Debrunner Acifer, which include protective workwear and rucksacks, are fitted with the smart NFC technology from smart-TEC, giving customers unmatched added value.
A well-known entity on the market for protective clothing – gilets, jackets and trousers – the premium quality emblem incorporates the NFC technology from smart-TEC's smart-Chromotion product series. Made from a sturdy, yet flexible and individually mouldable plastic composite, the emblem is shaped like the Bluewear logo and can be sewn onto the most heavy-duty of materials, such as those used for workwear. An NFC chip is integrated in the high-quality NFC emblem, which has high brand recognition and is pleasant to the touch, raising the range from Debrunner Acifer to the next level of digitalisation.
Another solution for digital brand labelling is offered by the smart-Flexxline product line. Debrunner Acifer uses this high-quality emblem on tool rucksacks and backpacks. The emblem is characterised by detailed and delicate embroidery. The environmentally friendly smart-Flexxline emblem from polyurethane is pressed onto the product surface with a special adhesive. The NFC emblem and product surface fuse together and guarantee long-term adhesion.
Both product variations boasting the integrated NFC technology enable Debrunner Acifer's customers to access product information by smartphone quickly, easily and at any time of day. Item numbers, care instructions, discounts and promotions, product information and links to websites and social media channels can be accessed by customers without difficulty. This helps Debrunner Acifer stay in contact with its customers even after they have made their purchases. Customers can also personalise any Debrunner product fitted with an NFC chip. All they need to do is read the NFC chip with their smartphone and, in just a few easy steps, personalise the garment with the owner's details such as name, size, type of workwear and similar. This avoids unnecessary mix-ups whilst enhancing customer retention. With the help of the NFC technology from smart-TEC, Debrunner Acifer has succeeded in uniting design, functionality, safety and quality!