It must fit when sitting
For people in wheelchairs, there is only a small range of stylish and comfortable fashion. Functional clothing often lacks style. And beautiful attire is often impractical and can lead to pressure points due to seams and buttons.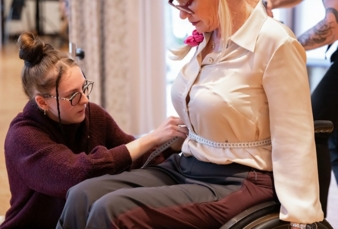 People in wheelchairs feel the need to wear not only functional but also stylish clothes, but fashionable clothing is designed for pedestrians. Those who wear it while in a wheelchair, experience issues like pants legs being too short and fabrics missing above the hips.
Mode Suisse, in collaboration with the Swiss Paraplegic Foundation and with the assistance of the STF Swiss Textile College has launched a project to address the situation and increase awareness. Fashion designer and label owner Lilla Wicki and Yannick Aellen, the founder and director of Switzerland`s largest fashion show, Mode Suisse, played a significant role in the project. The fashion project aims to combine style and functionality to create barrier-free clothing for wheelchair users. Additionally, the project aims to raise awareness among fashion designers, to think about people in wheelchairs in their creations. "I hope that this project will raise awareness about the issue. We want to make a difference for those affected and make their lives a little easier," says designer Lilla Wicki.
Particularly relevant were the needs assessment and the exchange between STF students and wheelchair users at the beginning of the project. Subsequently, the clothing items were further developed in the workshops. "The pants are comfortable – brilliant! And putting them on works smoothly", praised a tetraplegic individual who had the opportunity to test a prototype. The final products were presented by wheelchair-using models on September 4th at the largest Swiss fashion show, Mode Suisse, in Zurich.