Knee breeches and hiking jackets
The Schöffel brand has been shaping the outdoor market for more than 50 years. From the summer of 2019 there is a special selection of classics of the traditional company.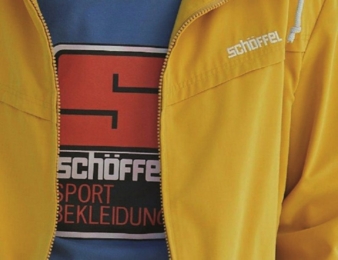 As one of the first suppliers in Germany, Schöffel manufactured numerous products that became must-haves of their era, generating huge demand and long waiting periods. From summer 2019, the family business will revive a selection of its classics in an exclusive collection: Schöffel Originals celebrates the nonchalance of the early years of hiking with popular vintage colours and large logo prints. Long-standing employees will be given the opportunity to recall their first days of work over 40 years ago: the company's sewing shop is still an essential part of its operations and the product archive contains highlights from over five decades that will capture the imagination of true vintage lovers.
Two jackets and one shirt will be among the first products in the Schöffel Originals collection, which the outdoor and skiwear specialist will present in a modern retro look as part of a new marketing campaign. Their products will be available in limited editions both on the high street and online. Retailers will communicate the collection concept and thus captivate the growing fan base of past trends. When creating the remakes of selected classics, the company's designers focused on a consciously simplistic look. The garments are almost true to the original—capturing the spirit of their time both in terms of colour and tactile properties. The designers also included the 1970's company logo which will delight die-hard retro fans, whilst representing Schöffel's history as a reliable supplier of durable outdoor wear.
The Schöffel group, headquartered in the Bavarian town of Schwabmünchen, is one of the leading manufacturers of outdoor and ski apparel in the German-speaking world. For more than 200 years, it has been synonymous with quality, reliability and innovation. The 7th generation, family-run company was founded in 1804 and is now led by Peter Schöffel. The firm employs over 200 staff and in 2017, generated a revenue of approximately EUR 100bn.