16/10/2019 –
370 new workstations for oder picking, packing and shipping
— auf Deutsch lesen
E-Commerce: Breuninger upgrades facilities
How can staff and their workplaces become even more productive and ergonomic? It's a question that Breuninger of Stuttgart has been asking itself.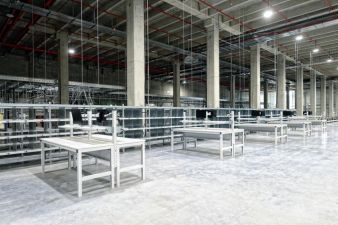 Founded in 1881 by Eduard Breuninger, the company operates eleven exclusive department stores in Germany and an online shop, dedicated to fashion and lifestyle. Breuninger is positioned at the top end of the market, with a focus on textile goods. The task now is to fit out 370 new workstations across two floors of the company's new logistics centre, where goods will be picked, packed and despatched. Specialists from Krieg were brought on board to provide support.
Tailor-made solutions for the workplace
120,000 sqm of gross floorspace across five storeys, plus a further optional 60,000 sqm – those are the impressive statistics of the new logistics centre that Breuninger is currently building in Sachsenheim in the southwestern state of Baden-Württemberg.
The new building will handle packing and despatch, logistics and picking. And a lot more besides – the entire online shop and content production, including photo shoots, will be handled on the site and part of the company's administration will be based there. The new centre needs to be not only modern but also ergonomically designed.
The 370 new workstations will be critical to the success of this objective. The requirements were set out in a tender process: quality, reliable German-built products and good value for money were key criteria. Highly experienced partner businesses were requested to submit their proposals; they included specialists Krieg, based in Heimsheim, with whom Breuninger has worked together in the past. An important criterion was that staff should feel at home in their new workspace.
Krieg Workflex takes first place
Krieg Workflex provided ideal solutions to the company's requirements. Critical factors in the decision included their production quality, broad range and a long guarantee of availability. The geographical proximity of Krieg Workflex was another factor in the company's favour. Viewing windows, retracting printer shelves, special filing systems – it was in the fine details, individual pieces of equipment, special adaptations and refinements that Krieg showed itself to be the most suitable partner. All of the product lines handled here will pass through Krieg Workflex workstations.
Up to 700 employees
It is anticipated that from April 2020, up to 700 employees will be working at the newly installed workspaces. Since healthy and efficient working conditions are a key objective, there was a strong focus on ergonomics. Qualified ergonomics coaches from Krieg provided intensive consultation and planning to ensure the best possible application of human factors.
Construction within four weeks
The workstations were constructed in the space of just four weeks in May, with a team of five specialists. Short reaction times, a high degree of flexibility in both the products offered and in construction, immediate response to requests, skilled consultation and plenty of personal contact: Breuninger and equipment specialists Krieg made a good team.