25/02/2021 –
Combining technology and creativity
— auf Deutsch lesen
Marc Cain: Striding into the future with 3D design software
Armed with a clear digital strategy, Marc Cain is stepping into the digital future with 3D design software.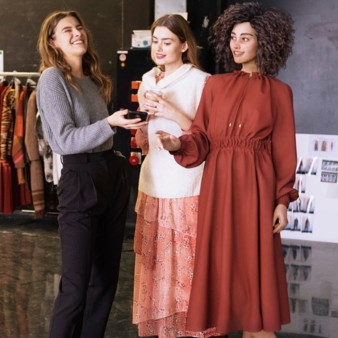 Marc Cain has one of the most modern pools of knitting machinery worldwide and has always invested in state-of-the-art technology early on. Equipped with a clear digital strategy, the company is now striding into the digital future with 3D design software.
Marc Cain is one of the few textile companies that still has its own production facilities in Germany, having invested in no fewer than 100 flat and seven circular knitting machines. Furthermore, Marc Cain's knitting technicians go above and beyond by optimising the machinery to create the distinctive Marc Cain fabric appearance. One of Marc Cain's special production techniques is the "3D Knit & Wear" technology from Stoll Karl Mayer, which produces garments at the company's own facility in a single step. The subsequent finishing and possible printing processes also take place on site.
Digitalisation – a complex topic
Embedding individual production stages in a comprehensive digital process is a complex undertaking. Marc Cain currently works with various interfaces for knitting programs, cutting programs, image processing software and 3D software. In the knitting field, Stoll Artwork is used to simulate jacquard, whereas maps from Vizoo, Adobe and other sources are used for textures and textile surfaces. Cuts and contours are exchanged in the standard DXF format. Marc Cain relies on its own libraries for colours and prints.
Perfection through 3D simulation and collaboration
The positioning of prints and panels is optimised using 3D simulation to achieve perfect results in the firm's in-house digital print shop. Marc Cain developed its own digital inkjet printing process as early as 1998. The process has been continuously improved and is now in its fourth development stage which has seen a 260 percent increase in the printing speed with a colour space of up to eight colours.
In its quest to remain innovative, especially in the realm of digitalisation, Marc Cain has been collaborating with software providers and universities for several years. Since 2016, for example, the firm has been cooperating with the Niederrhein University of Applied Sciences. In the early days, Professor Dr. Michael Ernst analysed which software would be best for Marc Cain to replicate its products. Marc Cain ultimately opted for Clo3D from Clo – although it is a stand-alone solution, it was the most suitable one at the time. A 3D product development team was also created with graduates from Niederrhein University of Applied Sciences. They have since been working intensively on the realistic visualisation of the materials in terms of drape, texture and material surface.
Another example of collaboration is Cora Winker who, as part of her Master's thesis at Reutlingen University, has been part of the 3D team at Marc Cain since February and has made its models tangible in a virtual space. And, of course, Marc Cain continues to work closely with software providers – for example, with Clo for design and with INDG from the Netherlands for the implementation of its digital fashion shows.
"We want to break new ground"
Marc Cain is well known for offering a wide selection of garments that coordinate across its collections. This results in an almost infinite number of possibilities that customers can try on visually and in any combination thanks to the 3D simulations. This will become a reality as soon as the 3D simulations replace still photography in the firm's online store. 3D models will also enable customers to view garments on their scanned avatars.
Pie in the sky? Not at all.
In fact, such offers already exist as gimmicks in various online stores, e.g. for sneakers. Customers can view the products from all sides on a virtual turntable and even explore their inner workings, as is now commonplace with car configurators.
Another step is to use augmented reality to view the product on a mobile phone and in the comfort of the home. The corresponding link is simply scanned through a QR code in the online store. These and many other applications have one objective in mind: to kindle emotions for each product and to enhance the online shopping experience.
However, the necessary 3D software and hardware are more expensive than for 2D. Savings can only be made by consistently exploiting these new opportunities from the design stage all the way through to the end customer. Marc Cain already uses the content generated in CLO 3D across the entire value chain, in collection planning and development, in trimmings development, in the creation of TacPacks, in marketing as well as in sales (End2End). The entire value chain benefits from this approach.
Marc Cain has most certainly arrived in the digitalised world. The company appreciates that digitalisation in the fashion industry is a constant investment, but one that pays off and ultimately must be embraced. Read our full report in German in the current print edition of textile network 1/2021.