New horizons for Polartec
The distinction between sports brands and fashion brands is becoming more blurred by the day. Fashion is becoming more functional, while sports brands are developing lifestyle lines.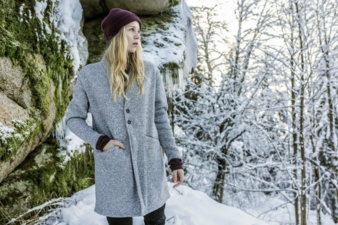 The reason behind this is a new generation of consumers who expect their outfits to be functional but not to have to look like performance clothing. The solution to these complex demands is known as 'casual tech', and it is the next stage in the evolution of functional fabrics.
Eric Yung, Vice President International of Polartec:
"Casual Tech is our answer to the growing demand for apparel that unites both fashion and performance. You could call it the next evolutionary stage in the development of functional fabrics."
Pioneer in high-performance textiles
In the early 80s, the US company Polartec revolutionised the way people dressed for the outdoors with the invention of the polar fleece. Time Magazine chose the fabric as one of the most important inventions of the 20th century. Today, the textile specialists' portfolio includes some 300 ultra-modern functional fabrics that can warm you up, protect you from wind and rain or even cool you down. 60 percent of the company's production comes from recycled PET bottles and it is about to introduce its first biodegradable materials.
Eric Yung:
"Today's young consumers expect fabrics and materials to withstand all weather conditions and temperatures. They have the same expectations of the clothes they wear. That's why the concept of sports clothing or casual clothing (comfort and performance) has been developing – to the new level known as casual tech. Those who buy it want functional clothing that doesn't look functional and that is suitable for absolutely any activity. It needs to work in a variety of situations and in changeable climatic conditions: for yoga, for commuting, at work, down at the café. And demand for casual tech is growing way beyond the traditional boundaries of outdoor and sports clothing, and this isn't just a temporary trend – it's a fundamental shift that leading textile producers such as us can only welcome with open arms."