Design competition
At the final jury meeting, the four jury members of the design competition, with the prize awarded by Oeko-Tex, chose the lucky winners.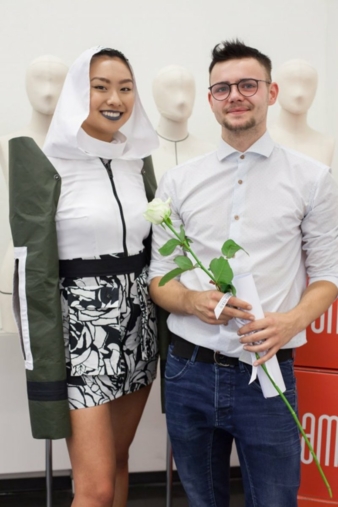 Four long months of planning, material procurement and finishing of clothes were behind the 19 students and they looked forward to the decision with anticipation. The second semester of the 'Fashion Design (BA)' course worked on the designs according to the syllabus under the title 'Formfindung Kleid' (Form Finding Dress).
And the winners are ...
First place went to Swen Braun and his model Nature Fight. Second place went to Sara Peters' dress Le Traceur. The third price was accepted by Katya Maluavuanga for her design Combattante. Moreover the jury decided to award a prize for innovation to Atina Drincic and her Nostradamus inspired dress.
Honouring young talent
Georg Dieners celebrated with the prize winners and said: "Today we are honouring the young talent who will be responsible for the industry of tomorrow. I am proud that Oeko-Tex is able to act as a mediator of knowledge within the scope of this cooperation. We would be very pleased if the students remember this project in their professional careers and are reminded that there is a system that helps them to make the right decisions and to make the world a little better by being more aware of the materials they purchase."
Swen Braun, winner of the 1st prize is particularly pleased about the recognition: "I can't believe that I really won the first prize. I am speechless and incredibly happy."
Presentation in January 2019
The finished models from the fashion competition will be presented to a wide range of fashion industry visitors at the EXIT Show by the AMD Akademie Mode & Design at the CPD weekend in January 2019. Here the winners will again have their winning outfits, as selected by the expert jury, presented to the public within the professional framework of the Platform Fashion shows.
The jury members
Georg Dieners (Oeko-Tex)
Uta Feldmann (C&A)
Gudrun Allstädt (Textilwirtschaft)
Marcus Wirz on behalf of Dean Prof. Claudia Ebert-Hesse (AMD Akademie Mode & Design)