25/10/2019 –
Textile printing without chemicals
— auf Deutsch lesen
Organic Prints
Industrial printing inks and printing processes based on natural dyes and natural components.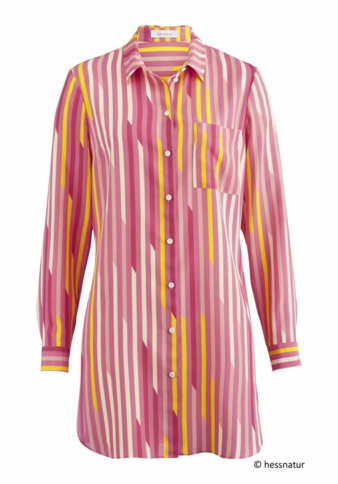 In a concerted effort to develop vegetable-based printing inks for modern textile production, the Organic Prints project has brought together forces from the worlds of design, industry and trade: namely, Burg Giebichenstein University of Art and Design in Halle, textiles printer KBC and the natural textiles mail order company Hess Natur.
The common goal: to create industrial grade printing inks and processes based on natural dyestuffs and natural ingredients. This has resulted in colour charts featuring twelve hues for silk and the viscose fibre Modal. Accordingly, the project team has identified suitable recipes and processes, covering everything from mordants and steaming to post-print washes. The inks display good properties in terms of colour depth, colourfastness and resistance to perspiration, washing and abrasion and can be used in industrial rotary screen printing. In contrast to dyeing where the entire fabric is drenched in dye, this printing process is designed for the partial colouring of fabrics with patterns created during production.
Natural dyes currently are of no importance in industrial textile printing
This requires different compositions to those used in dyeing. Bio-based textile dyestuffs are bio-degradable and have promising sustainability credentials with respect to processing and disposal. The increased use of vegetable-based inks could also improve biodiversity by reviving the cultivation of plants specifically used for colouring purposes. Common madder, mignonette, cochineal (cochineal scale), logwood, cloudberry and jasmin blossom have emerged as suitable sources of dyestuffs, which can be used in conjunction with ecologically acceptable mordants that contain no heavy metals.
Project partner Burg Giebichenstein University of Art and Design presents the "Organic Prints" project and its findings on the university website under Faculty of Textile Design>Research.
Read more on our german website.