Plenty of art and nature
The fabrics and trimmings for the Autumn/Winter season 2016/2017 emanate from a passion for technology and art. It is all about creative flights of fancy, that are measured all the same, made for a time in which the German textile industry is proving commercially stable despite many imponderables.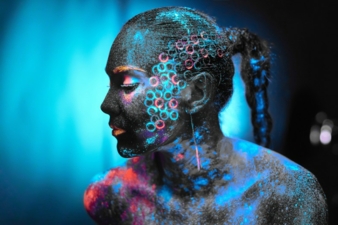 This season's innovations promise a successful blend of creativity and commercialism. This creative balance is in chime with the steady development of the German textiles industry this year. The German Textile+Fashion Confederation believes that this positive trend will continue in the coming months "despite persisting challenges, such as the troubled euro and the political hotspots in Eastern Europe".
Accordingly, German fastenings manufacturer Knopf & Knopf International, expects "a steady performance" in the next ordering round, compared to order levels for the summer 2016 season. First-half business figures vary considerably from button maker to button maker with comments diverging from "slightly lower than expectations" to "an extremely successful first half of 2015". Kahage GmbH, for example, has posted another "significant growth" along with the entire Butonia Group. The womenswear sector is still a bone of contention for many, as it continues to be "reticent" in its use of trimmings.
The increasing speed of production processes and the ensuing problem of shorter delivery times are posing a challenge for many companies. The constant optimisation of processes is now becoming an integral part of everyday business. Manufacturers such as Union Knopf (D) benefit from having their own production facilities dotted around the world, as they can respond quickly to customer wishes whilst reaping the benefits of short transportation routes.
In the debate surrounding "anti-fashion" and the "inspirational crisis", Joachim Baumgartner, trend expert for German textiles fair Munich Fabric Start has the impression that fashion designers are taking refuge in provocation as they see it as the only means of creating something new. The fabric and trimmings trends for the Winter season 2016/2017 are still heavily under the influence of technology and retro themes.
Munich Fabric Start's tagline for its next event is "Refuture" (01. to 03.09.2015). The fashion push towards "deformation", which goes hand in hand with alienated proportions created by oversizing, has also spread to the accessories. "The trend is moving towards large buttons," notes German trimmings specialist Bodo Jagdberg, among others. Clearly visible are the inspirations from the 1970s, the rustic nature theme, post-modernism, a variety of gothic styles – and romance hovering between opulence and drama. Bleached mid-tones are superseding the pastels and black is everywhere.
Mother Nature and the four elements remain one of the most important sources of inspiration. "Total Nature" features at Munich Fabric Start whereas "Slow Winter" emerges as one of the trend themes at the Parisian textiles fair Première Vision Leather. The fabrics and trimmings are calm and contemplative, archaic and rustic, and are characterised by crafted looks and imperfections. Wood, leather, vegetable ivory, goat's horn (Union Knopf) and other natural materials remain indispensable for buttons and fastenings which are jazzed up, among others, with a little colour.
On the fabric side, coarse knits, lambskin, antique leather, salt and pepper fabrics, burly, fluffy and padded materials evoke a sense of restlessness, fogginess, shadiness, and cracking. Prints are reminiscent of foggy landscapes, and imitated natural structures, or are vague and displaced. The fastenings and labels make widespread use of organic textured shapes, inspired by bark and stone structures. Metals occasionally appear rusty and suggestive of several layers of paint. Denim indulges in green cast and destroyed effects, to name but a few. Sophisticated multi-layered materials and embellishments with floral laser and micro designs (Union Knopf) bring a hand-crafted character even to the menswear. Faded, powdered, velvety and hairy fabric looks cultivate a natural sense of calm in quiet neutrals, with greys and shades of white appearing alongside icy blue.
This mood is captured by genuine or fake horn buttons, appearing in used, bleached, mildly marbled or finely hatched finishes. Careful enamel finishes, varnishes and a velvety soft touch bring sophisticated colour and lustre effects (Bodo Jagdberg) to all areas of fashion, once again right the way through to menswear. Felt softens the fashion look and is found alongside duffle-coat fasteners (Stenger by Bodo Jagdberg). Rough karabiners draw attention to themselves in aged finishes. Knopf & Knopf interprets them in a mixture of materials, including wood or leather and metal, likewise with a shimmer coating. Dutch label maker Van Engelen& Evers is responding to the rising demand for organic materials, chromium-free leather, recycled polyester and nylon. Khaki, brown, greyish brown, off-white and dark green complement the neutral colour chart.
Plenty of black and blackened dark colours combined with blood red, greenish gold and white add fire to the gothic theme. In its "Royal Gothic" story, Munich Fabric Start brings the romantically lugubrious gothic style together with royal classicism, sexiness and a "healthy goth attitude". Cascades of tulle ribbons and robes, crest and frog fastenings such as those created by Knopf & Knopf are opulent and luxurious. Some metal accessories are reminiscent of lustrous chain mail and armour. Metallic looks remain on trend and are interpreted in dark steel, vintage brass, copper, black copper (Butonia-Kahage) and gold.
Even the seam bindings are found with metallic influences (Bodo Jagdberg). Metal chains of every imaginable kind are guaranteed to catch the eye. They sometimes appear as fine ball-bearing chains, also used to embellish leather labels (Stenger by Bodo Jagdberg), or as striking accessories to denim in old brass or golden sew-on decorations. Small lapel pins are indispensable. Black decorative buttons with jet entice the onlooker with finely chased edges, engraved or embossed ornaments, complementing matt-gloss jacquards, transparent fabrics and heavy satins. Grey buttons in pewter finishes and with flaking varnishes, conjure up a sense of morbid yet casual sophistication.
A little baroque, a little second-hand spirit and plenty of inspiration from modern art are a source of both provocation and delight. Accessories are transformed into works of art, with fasteners experimenting with embroidery, leather laces and tapestry elements (Knopf & Knopf). The abstract colour scenarios of Mondrian or post-modernism are offloaded in bold print and woven motifs. This is complemented with oversized press studs (Butonia-Kahage), which are made from extremely thin sheet, making them pleasantly light in weight.
The retro Boho influences featuring bouclés, tweeds and sweat fabrics are brought together with buttons in moiré vegetable ivory looks or with colourful leather trims. The material mix goes right the way through to the trouser waistbands. Topp Textil (D) experiments with contrasting and sculpted surfaces, combines Italian tie fabrics and cloqués as well as natural and technical fabrics and is inspired by Bauhaus, Joseph Beuys and Ai Weiwei. Mechanical elements such as cogs are an important source of inspiration for denim trimmings.
Striking 3D structures are in abundance in the label sector, for example, sculpted constructions made from wafer-thin organza or taffeta (Van Engelen& Evers). Despite the frenzy of the 1970s, modern design is being "nourished" with high-tech fantasies and utility chic, iridescent and fluorescent finishes and integrated micro-electronics. Labels from coloured metallic foil and mirror-effect trimmings are funky. Plastic fastenings in futuristic shapes, but also rubberised surfaces, nylon disks that can be dyed and placed under metal, draw-string stoppers and ends support the technological character of modern sportswear, lending it a tailor-made feel.
Also worthy of mention are the multi-functional and smart labels offered by Van Engelen& Evers. They include, among others, anti-theft labels as well as brand recognition and security labels using RFID technology.
[Regine Hövelmann]