Porto Fashion Show: Young designers on course for success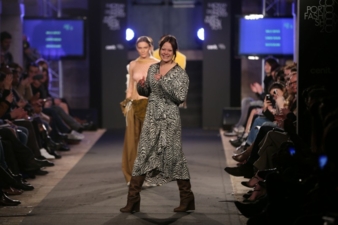 Milla Lintilä was named the national winner for Germany at this year's European Young Designer Contest at the Porto Fashion Show. Until recently, Lintilä, who is originally from Finland, was still studying for her Bachelor's at the Esmod International University of Art for Fashion in Berlin – at the end of February, she was able to enjoy prize money of 3,000 Euro. This marked the second time that Esmod Berlin has participated in the European Young Designer Contest at the Porto Fashion Show.
For Natacha Aedo Duran, who graduated with an MA in Sustainability in Fashion in 2014, Jan-Philipp Gerlach and Milla Lintilä, both 2014 BA graduates, it was about much more than being able to create their own collections and then present their work in a runway show. All three also gained direct insight into the Portuguese textiles industry. The Porto Fashion Show is organised by CENIT (Textile Intelligence Centre) – the Portuguese organisation for textiles and apparel – who had put together a comprehensive programme for the three invited Esmod graduates.
On the first day, the three young designers went sight-seeing in the city of Porto, and on the second day, they took a closer look at textile production businesses. They visited the Plopique factory, which processes cotton just outside the gates of Porto, where both samples as well as batch productions for Zara and Pull&Bear are manufactured.
In the design studios, the young designers gained an impression of how print samples are developed, sewing patterns are created, and how outfits are designed. Then on the third day came the highlight. Alongside the visit to the Porto Exhibition Centre - where the MODtissimo trade show was showcasing the latest developments in the Portuguese textiles sector to buyers and other attendees from all over the world – Milla, Natacha and Jan-Philipp were busy backstage, styling their models and preparing for the runway show.
In front of a large audience and the jury – which included Brigitte Nutz, Project Manager of Apparel & Fashion at Messe Frankfurt, as well as Catherine Toffaletti, journalist for Le Fashion Post, and Portuguese fashion designer Luís Buchinho– they presented their ideas alongside other young designers from the UK, France, Spain, Italy, and Portugal. Three promising, young fashion creators were invited from each of these countries as well. For his Men's Collection, Englishman James White was awarded the overall prize of 5,000, Euro as well as a further 3,000 Euro as the national winner.
[Ingrid Sachsenmaier]