Precious natural material
Ranging from cheap to exclusive, leather has become firmly established across all price brackets in the fashion world. Various criteria determine the price and quality of shoes, jackets, belts, bags and accessories made from leather. After all, there's leather and then there's leather.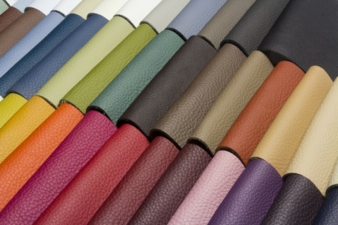 To begin with, let us just summarise what everyone already knows: real leather was once the skin of an animal and, depending on its life span and the kind of conditions to which it was exposed, the skin may be blemished with scars, bites, scratches and the like. These marks of nature are often visible in the processed leather, depending on how it has been tanned. What leather experts and connoisseurs value as unique is often seen by laypeople as a flaw, prompting them to return naturally blemished items.
Every hide, and therefore all leather, is unique. A leather jacket pieced together, for example, from six lamb or goat hides, is always one of a kind. On closer inspection, it is possible to detect differences in the structure of the hide and the appearance of the leather pores between jackets in the same series. This unique charm is the secret to the success of leather clothing and is undoubtedly one of the reasons why this natural material assumes such an important role in the fashion world.
Leather and furs are the oldest clothing materials known to man, as documented by many cave paintings. When exposed to a changing climate, humans suddenly needed to protect themselves from the cold, wind and rain, prompting them to make use of animal furs. Ötzi, who was wandering through the Alps more than 5,000 years ago, was clad from head to toe in leather. Not only Ötzi, but also his attire, have been analysed by an international team of experts. They were surprised to find how advanced the tanning process with vegetable products already was at that time.
Diverse natural tanning processes such as chamois tanning with train oil, or vegetable tanning based on oak, birch bark, acacia, quebracho etc. bear witness to the evolution of interesting tanning techniques through the millennia. The increasing popularity of leather products and the growing population meant it would no longer be possible in the long run to continue robbing nature of its vegetable tanning products. It, therefore, became necessary to find a chemical alternative.
Chrome tanning with metal salts was invented in 1845. Today, around 85 per cent of global leather production is tanned with chromium salts. The formulations are constantly being improved to achieve the highest possible quality, whilst observing the limit values enforced by law.
Although innovations such as tanning with acids made from olive leaves or rhubarb are being pushed, they remain no more than interesting niche products. A full return to vegetable tanning techniques seems highly unlikely. The popularity of chrome-tanned leather is based on its tried and trusted properties such as the easy availability of chromium salts, cheap and quick tanning in around eight hours, light tanning hues, i.e. any light colour can be achieved with high levels of lightfastness, low specific weight, high tear resistance, optimal flexibility and stretch values.
Even though Asian tanneries in particular are frequently named and shamed as environmental disaster zones, it is in fact possible to practise chrome tanning in a completely clean and environmentally sound manner (cf. textile network 3-4 2015, page 28, Leather: Green Tanning). The topic of chrome tanning and leather often triggers heated debate and scare-mongering. And yet, the same that can be said of leather is also true of chromium: "There's chromium and then there's chromium."
The chemical element chromium comes in a variety of different oxidation states. Chromium III is a trace element that is also found in the human body. It is harmless and is used by the leather industry as a tanning agent. Chromium III may also be found in pigments. Chromium VI is classified as sensitising, capable of triggering allergies, and as carcinogenic. Chromium VI cannot be used for tanning.
Chromium is mined as ore and cleaned. The end product is usually potassium dichromate, a Chromium VI compound. When reduced (= transformed), it turns into Chromium III. If this process is not completed properly, traces of Chromium VI may be left in the tanning agent which is then applied to the leather. Besides impure tanning agents, dyes contaminated with Chromium VI can cause this harmful substance to find its way into the leather. Red, orange and yellow dyes in particular can contain Chromium VI. A variety of external influences may cause Chromium III to change into Chromium VI. Intense UV light, from the sun or lamps, increased temperatures, too little moisture in the leather, or even grease with unsaturated fatty acids, may lead to the creation of Chromium VI.
A rigorous quality management policy and the use of high-quality tanning chemicals throughout the production chain are essential to producing non-toxic leather that complies with legal requirements. However, everything has its price. Achieving high quality leather and avoiding returns starts during the buying process. A reliable buying aid is offered by the materials published by German textile networking association DTB – Dialog Textil Bekleidung. The most important task for tanners is to preserve and enhance the natural properties of the hides in spite of the complex chemical processes to which they are exposed, and to endow the finished product with additional new properties.
High-quality leather products are highly valued. Offering durability, they make the extra cost a worthwhile investment. High-quality leather is synonymous with prestige and image and is greatly appreciated by customers all over the world. An old leather jacket or bag that has gained a natural patina or a used look over the years, is not devalued but is considered vintage and extremely interesting. Only precious materials, such as certain types of wood, copper or silver, never lose their appeal, even with a patina.
[Sonja Langer-Korsch, Leder-Consulting-Service GmbH]
[ www.leder-consulting-service.de]
has a pleasant handle, is kind to the skin, windproof and breathable, i.e. leather does not trap in the heat but offers optimal temperature regulation. It is endowed with natural elasticity and adapts to the movements of the body. It has an enticingly unique, natural look and a fascinating and distinctive fragrance.
The production processes from the raw hide to the leather – must be carefully planned, executed and checked to prevent the formation of Chromium VI. This includes:
- a thorough laboratory analysis of the tanning agents and dyes
- adding a reducing agent to the dyeing process so that Chromium VI does not form from Chromium III when exposed to heat
- maintain stable Chromium III with a low ph-value during tanning
The Official Journal of the European Union (L 90) published the EU Regulation No. (EU) 301/2014 dated 25 March 2014 on changes to the REACh Regulation regarding restrictions on Chromium VI compounds in leather goods. The regulation has been in force since 1 May 2015. Entry no. 47 on Chromium VI compounds in Appendix XVII of the EC Directive No. 1907/2006 (Column 2) reads as follows: "Leather goods coming into contact with the skin shall not be placed on the market with effect from May 1, 2015 where they contain Chromium VI in concentrations equal to or greater than 3 mg/kg of the total dry weight of the leather. Articles containing leather parts coming into contact with the skin shall not be placed on the market with effect from May 1, 2015 where any of those leather parts contains Chromium VI in concentrations equal to or greater than 3 mg/kg of the total dry weight of that leather part. The above paragraphs shall not apply to the placing on the market of second-hand articles which were in end-use in the Union before 1 May 2015."
(Source: Pro Leder 3/2015)