25/09/2019 –
Textiles and clothing industry
— auf Deutsch lesen
Situation report: Africa
Demographic changes, increasing urbanisation, shifts in economic power and global developments are promoting the growth of the African economy.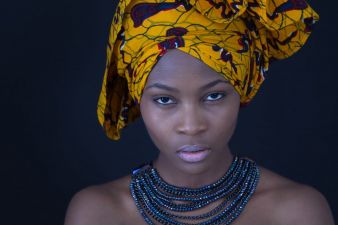 It has having a large impact on the textiles industry. According to the "UN Economic Report on Africa 2017", Africa has the fastest population growth of any region on the planet, with its 1.2bn inhabitants expected to more than double in number by 2050. This goes hand in hand with a rapid increase in Africa's working population. Forecasts predict it will become the largest workforce (1.1bn) in the world as early as 2034. These demographic changes are, in turn, leading to rising private and business consumption which will benefit mainly regional markets. What does this mean for the textile industry? Our author Skander Negasi has taken a closer look at the following four focal points.
African textiles, african design
The global demand for African textiles and clothing has been growing for years and African patterns are now recognised as being truly fashionable and iconic. International fashion brands have increasingly been integrating African styles into their latest collections and international textiles manufacturers are beginning to see Africa as a new source of labour and a growing consumer market.
Africa has doubtlessly – and at great speed – gained influence in the global fashion value chain and is currently focusing on industrialisation in a move to benefit from this development. Instead of exporting raw materials, which are susceptible to market fluctuations, and importing used clothing, Africa is adding value to everything it manufactures and is exporting finished fashion products.
The textiles and clothing sectors
Textiles and clothing offer huge opportunities for countries looking to industrialise. This sector contributes to diversifying the economy and offers a source of foreign currency through exports. Labour costs of EUR 40 to EUR 160 make the continent an attractive option for investors and buyers.
Ethiopia, for example, has set its sights on exporting textiles and clothing worth US$ 30bn by 2030. To be able to reach this goal, attract investments and boost the country's productivity, the government has established several industrial areas. It is hardly surprising that Ethiopia has managed to attract large brands such as PHV, H&M and Primark. According to the World Bank, approximately 80 per cent of employees in the Ethiopian fashion sector are women. Ethiopia's fast-growing and promising market has attracted many investors keen to benefit from business opportunities in this eastern African centre of excellence.
But not only Ethiopia has seen its clothing sector flourish; the same holds true for South Africa, Mauritius, Madagascar and several northern African countries. The remainder of the continent, however, is still trailing behind.
Chinese investments
China's national textiles association, the China National Textile and Apparel Council (CNTAC), recently confirmed its interest in investing in Ethiopia, Africa's fastest-growing economy, where it is currently looking for investment opportunities.
The International Trade Center (ITC) collaborated with the Chinese Chamber of Commerce in organising an investor roadshow focusing on African textiles and apparel in the Chinese cities of Shanghai and Wuxi to promote the import and export of textiles and clothing. This event ("CCCT") was held from 11 to 15 March 2019. The roadshow was part of a project called "Partnership for Investment and Growth in Africa" (PIGA), run by the UK government and the Northern Irish Department for International Development (DFID).
After the roadshow ended, Zhejiang Mengnah Socks & Hosiery Co. Ltd. and the Ethiopian Investment Commission (EIC) signed a memorandum of understanding as a first step towards a US$ 30bn investment project. The following week, two Chinese companies visited Ethiopia and one of them has already entered into negotiations with the government regarding renting land and building a factory.
100 Chinese companies participated in the roadshow and showed great interest in investing in Africa's textiles and clothing sectors, especially in Ethiopia and Kenya which offer attractive workforces, markets and existing infrastructure.
A great risk: second-hand clothing
The global trade in used clothing has a long and solid history. During the early 90s, second-hand clothing became increasingly popular due to its affordability and liberalisation. Used clothing creates jobs for millions of redistributors, traders and market stalls in emerging markets, especially in eastern Africa. The decision of some countries to limit imports of used clothing to promote local manufacturing prompted exporters in industrialised countries to sue those governments for protectionism.
Second-hand clothes are not distributed in Africa free of charge, they are sold on. And since most intermediaries receive their goods for next to nothing, they can sell them on so cheaply that local manufacturers simply cannot compete. There are markets in almost all large African cities where designer jeans can be bought for just a few dollars. As the import of cheap products has grown, so the local textiles industry has gone into decline. What used to be imported as second-hand clothing from the Western World is now imported even more cheaply from China. Kenya is currently running a public campaign against second-hand products from China.
Ironically, some international fashion brands now have their clothes produced in Africa since labour costs have risen even in traditional production areas such as Bangladesh. Ethiopia, for example, now manufactures clothes for European markets which are then collected as used products and sent back to Ethiopia where they undermine the local industry.
The Guardian estimates that the global market for second-hand clothing is worth approximately US$ 3.7bn. Before new measures were taken, about 40,000 tonnes of used clothing arrived in Tanzania every month. In Uganda, 81 per cent of clothes bought are used clothes. In the early 90s, Kenya was home to 110 large clothing factories. Their number had dwindled to 55 by 2006 and today, there are only 15 textiles factories left.
Fazit
Africa is the cradle of humanity and a culturally and ecologically diverse continent. Consumers all over the world are enthralled by its wide choice of fabrics, patterns and both traditional and modern clothing. Every year, US$ 4bn worth of African textiles with mesmerising patterns and embroidery is sold to end users. This is a solid foundation for rapidly developing the continent's textiles industry.
In the UN 2030 Agenda including the Sustainable Development Goals (SDGs) and the 2036 Agenda of the African Union, African governments pledged to improve living conditions in their respective countries. The textiles industry is one promising sector which could help them achieve these aims. It has the potential to end poverty for millions, if not hundreds of millions of Africans.
Africa Sourcing and Fashion Week
Every year, the international textiles and clothing industry meets at the Africa Sourcing and Fashion Week, an event comprising a trade fair, a conference and guided tours of several factories. Over 7,000 investors and buyers from more than 45 countries meet over 350 African manufacturers and governments. The next event will take place from 9 to 12 November 2019 in Addis Ababa in Ethiopia. More information on www.asfw-online.com
Skander Negasi
CEO Trade and Fairs Consulting GmbH