Sustainability connects humankind with nature
When shopping for consumer goods or food, consumers are bombarded with labels and quality marks. But when it comes to leather, they have to search long and wide.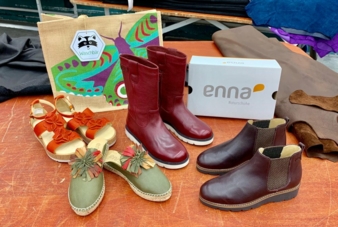 The term sustainability often appears overused. For companies, it is almost a MUST to offer products that have an organic label or are produced sustainably. All the more reason to take a closer look when advertising makes such claims.
In fact, the "Siegelklarheit" website, which sheds light on the masses of quality seals and is funded by the German Federal Ministry for Economic Cooperation and Development, features just two seals for leather products, with a rating of "very good" and "good". GIZ, the German society for international cooperation, is responsible for implementing the testing of clear labelling. It is astounding that only very few companies equip and market their leather products with a quality seal even though 45 percent of consumers value products with seals more than those without.
"Naturleder IVN certified"
The "Naturleder IVN certified" quality seal, issued by the International Association of Natural Textiles e.V., has been awarded the best rating of "Very good choice". This is followed by the extremely well-known "Blue Angel" ecolabel which is rated as a "Good choice".
"Naturleder IVN certified" scored particularly well in its regulation of the use of chemicals in the production phase. Chemical coatings and tanning with chromium salts are not permitted. Substances that pose a risk to the environment, the health of staff and consumers, are banned and the entire supply chain has to be traceable. Raw hides may only be used if they are by-products of meat production. Animal husbandry, animal transportation and slaughter methods are all scrutinised through the lens of animal welfare and protection.
Currently Hans Natur, Hess Natur, Maas Natur and Deepmello – Mode und Accessoires offer leather products boasting the "Naturleder IVN certified" quality seal. Using its own special chromium-free recipe, leather company Ecopell in Weitnau has its leather synthetically pre-tanned and vegetable tanned (tanning agents: Valonea and Tara) by Südleder in Rehau, Germany, and offers its soft leathers with three certifications: "Naturleder IVN certified", "Biokreis", which guarantees animal welfare and "Allergy sufferer-friendly" from ECARF (European Center for Allergy Research Foundation).
"Blue Angel"
RAL GmbH, a subsidiary of German quality mark institute RAL Deutsches Institut für Gütesicherung und Kennzeichnung e.V., is the state-authorised office for issuing the Blue Angel environmental label. The label is owned by the German Federal Ministry of the Environment. The Blue Angel has been awarded to more than 12,000 products and services, including leather goods which meet high environmental standards and apply environmentally-friendly production processes using few harmful substances. The "Blue Angel" is acknowledged for being independent and enjoys high levels of credibility. Siegelklarheit confirms that high standards are maintained.
Leather Special in textile network
Read more about this topic in the upcoming issue 9-10/2019 with publication date 27 August 2019.