24/08/2021 –
Bio-based material for zippers
— auf Deutsch lesen
Textile recycling in one go
"Why not make the zipper out of the same material as the tape it's attached to?," wonders Gabriele Mosso, CEO of Nyguard, the Italian zipper manufacturer.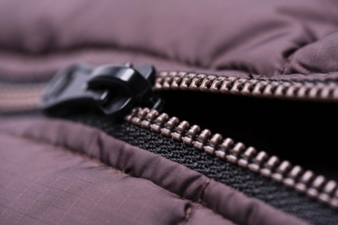 More and more customers are also paying attention to sustainability when it comes to fashion and clothing. But garments are more than fabric – after all, there are also yarns, fibers and applications such as zippers. All the better if they are also made from the same biobased solutions.
What could sustainable fashion look like?
Recycling garments would be one variant: "Recycling materials is generally difficult when different materials are firmly bonded together," says Mosso. That's as true for composite packaging as it is in this case for pants with zippers. Different types of synthetic textiles and accessories are difficult to properly separate.
The same applies for certificates of origin for these various individual parts. The apparel industry is well-known for sourcing numerous components from completely different countries and production locations – from yarn, to buttons and zippers. "The latest challenge in textile is to achieve a complete traceability and circularity in value-chain. A process in which all the synthetic textiles and accessories could be recycled together," says Alan Garosi, Head of Marketing at Fulgar, the likewise Italian manufacturer from which Nyguard obtains the yarn for its zipper tapes. Aware about that, Mosso adds: "Why not make the zipper out of the same material as the tape it's attached to? From plastic, sure, but why not from a more sustainable, biobased plastic. And even better: from a material that would also be suitable for use to make the complete garment?" This would at least bring us a decisive step closer to the possibility of recycling clothing.
Plant-based alternative: castor oil
After some market research, Gabriele Mosso found what he was looking for at Evonik. The specialty chemical company's Vestamid Terra is a polyamide made entirely from biobased material, castor oil to be precise. This is a raw material that is inedible for many animals so is not used as a food source, or as animal feed. Additionally, since the plant known as the 'miracle tree', tolerates dry soils and drought, cultivation of the renewable raw material does not compete with land used to grow food. This makes it an ideal plant for use in biobased solutions.
Even if there is still a long way to go before this vision is realized, because some details of clothing recycling still have to be invented – the pre-requisites on the part of the manufacturers would be created.
Read more about it in textile network 5/2021 with publication date October 11, 2021.