20/07/2020 –
Part 2: Structures matter!
— auf Deutsch lesen
The Future of Fashion: Research and development in fashion
"We've been trying for more than 20 years to tackle problems. Bringing together design, communication and distribution." Joachim Schirrmacher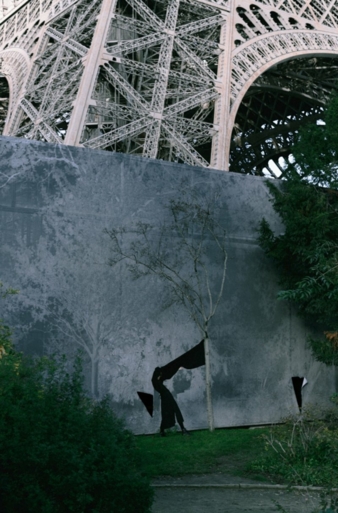 Part 2: Structures matter!
textile network: What are currently the most important accessories and bags?
Joachim Schirrmacher: The bag you have on your shelf. It doesn't matter whether it's the bamboo bag from Gucci, the Birkin bag from Hermès or a Bananatex bag from Qwstion. Even just asking about best-selling products shows that we're well and truly stuck in old structures.
textile network: What do you mean exactly?
Joachim Schirrmacher: If we want to shape the future of fashion, we need to talk about structures, not the latest it-bag. We've been trying for more than 20 years to tackle problems such as comparable product ranges, overproduction, discounting wars or ever faster rhythms with far too many fashion weeks. Fashion is no longer culture, fashion is just business, and one that is dominated by a few corporations. Interestingly, several open letters addressing these issues have appeared in recent weeks, e.g. from Armani, Dries van Noten and Business of Fashion. However, so long as investors continue to expect short-term returns, the sad truth is that the debate about alternative systems may simply vanish into the ether. The shift to more sustainable systems of transport is already demonstrating just how difficult fundamental change can be.
textile network: What will it take to initiate real change?
Joachim Schirrmacher: We urgently need more resources for research and development. In the fashion world, they are virtually non-existent. We also need to ask ourselves how we can change the system. What other ways are there of doing business? Could "common good product" replace gross domestic product, for example? At our FASH workshops, I always tell our students: Keep your heads in the heavens, but your feet firmly on the ground.
textile network: But with 16 textile research institutes, Germany is a world-leading force in research!
Joachim Schirrmacher: You're right that Germany has everything it needs for fashion of the 21st century. However, the thinking and research focus here is on technology. Preference is given to the automotive industry, aviation and aerospace, medical engineering, construction or sustainability.
These institutions have little or no appreciation for fashion. In Germany, design is not firmly embedded in our system of innovation.
We need to bring together the areas of design, engineering, communication, and distribution. They need to find a common language and invent completely new working methods, which in turn will require interface management and facilitators. The iPhone demonstrates just how great the potential could be. When it was first launched in 2007, the constituent technologies like Germany's MP3 were all well-known, but they were linked up in new ways and presented in a good design – and that revolutionised the world!
textile network: What issues should we currently be tackling in fashion?
Joachim Schirrmacher: We have so much knowledge about materials, design, and production processes that we should rediscover and re-evaluate what we have.
When it comes to fair fashion, we need to look far beyond the boundaries of upcycling and a sharing economy. In the textile segment, there's Econyl – recycled nylon – or new types of viscose from Finland, for example.
Similarly, concepts like participatory design and open design systems offer huge potential. The same can be said for the social dimension of design which can lead to products that help Asian or African countries create their own added value – products they use and sell themselves. Design then becomes much more than just a sophisticated part of the luxury goods industry; it helps to make many people's lives more fulfilling. We need more initiatives like the "Proudly Made in Bangladesh" project created by Engelbert Strauss. This family-run enterprise is setting up its own academy and a factory with fair working conditions in Chittagong.
The greatest potential of all lies in the digitalisation of processes. Examples range from Stoll's 3-D knitting, which is being used very successfully by Falke Sport and Marc Cain, to the largely automated production processes at the Adidas Speedfactory. These local miniature factories for local markets were to be installed all over the world – a production concept that would be a perfect match for the new fashion ethos of deglobalisation and "See now, buy now". All these facets could give rise to further innovations because new technologies and materials usually breed new designs. The greatest potential of all lies in the digitalisation of processes
textile network: As for the Speedfactory, Adidas' CEO Kasper Rørsted declared that the pilot factories in Ansbach and Atlanta were to close just two years after opening.
Joachim Schirrmacher: Rørsted is known for profit maximisation. The Speedfactory received millions of euros in taxpayers' money and yet, no meaningful reports or images were released into the public domain – at least, not as far as I or my colleagues know. This is a fatal error. Much the same can be levelled at Windsor. In 2004, after six years of research and development, the company finally unveiled its revolutionary industrial bespoke fashion. Likewise funded with taxpayers' money, this project was shut down after a short period of time and the know-how was transferred to Asia. Why is it that trailblazing areas such as these are not pursued more vigorously in Germany? We're in danger of witnessing a similar outcome to that of the world's first functioning computer by Konrad Zuse.
The interview was conducted by editor-in-chief Iris Schlomski on behalf of textile network.
1. Part: The status of luxury and distribution