A+A 2017: People matter
Once again allowing the world's leading trade fair for safety, security and health at work held from 17 to 20 October to post top marks.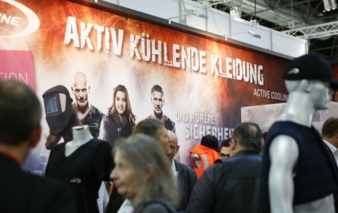 A total of 1,930 exhibitors from 63 nations and over 67,000 trade visitors came to the world's largest trade fair for this industry in Düsseldorf. This means that this year A+A – together with the International Congress for Occupational Safety and Occupational Medicine – very much underlined the huge importance of health and safety at the workplace.
Digitalisation has now penetrated virtually all areas of life and work
Investing in the health of employees pays off. It helps to ensure the performance of the workforce and increase productivity. It is all the more important to foster a holistic approach to prevention that takes all aspects of occupational health management, safety and workplace design into consideration. "Here the A+A, as the world's leading trade fair for safety and healthy, joins forces with its partners," sums up Messe Düsseldorf Managing Director Joachim Schäfer. "Digitalisation is no longer just something for the future and has now penetrated virtually all areas of life and work – likewise the Internet of Things that now networks billions of things together worldwide. It is fabulous that A+A is not just a stage for new technologies but is now also being seen globally as a bridgehead between the past and the future of our world of work."
No. 1 International Event for Workwear
The good investment climate as well as the interest from trade visitors in high-quality personal protective equipment and protective workwear was confirmed by a current study conducted on the German market for personal protective equipment that was published during A+A 2017 by market research firm macrom. This study showed that the volume of the entire German PPE market grew between 2014 and 2016 by 9.2% to a total of Euro 1.97b. Leading here with the largest market share is protective workwear that is increasingly also being worn in the private sphere. Commenting on this Birgit Horn, Director A+A 2017, said: "While protective workwear in the past was generally uncomfortable and not particularly fashionable, staff today are fairly willing to show themselves in public wearing this clothing. Thanks to the development of high-tech clothing in the sports and outdoor sectors people no longer have to deprive themselves of top design and optimum performance. This was also confirmed by the over 200 Corporate Fashion exhibitors and rounded off by newly designed fashion shows.
The next A+A will be held from 5 to 8 November 2019.
More about the textile innovation at the A+A in our printed issue textile network 1-2 2018.