Gunold Trend Information
The corona pandemic influences trends to a large extent, as current developments in the textile, fashion and embroidery industries show.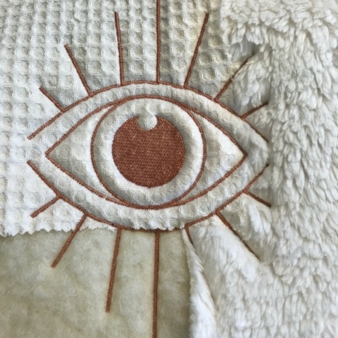 Existing structures in our social and economic live are tumbling and this is of course also affecting global trends. People are longing for calm and normalcy which has a strong impact on their private ambience and surroundings. Nature is much more cherished and valued. On the other hand, people try to brave the situation – processes of digitization are pushed and public interest has its focus on high-tech products.
The developments in the textile, fashion and embroidery industry:
Nature look with a twist – sustainable fabrics, accentuated with a glittery embroidery. Characteristic dark autumn and winter colours are brightened up with off-white and pastel shades.

Reinterprate classic patterns – reddish tones in many different shades will be omnipresent.

Playing with transparency remains a strong theme.

Natural, sustainable fabrics and materials are on the rise – in fashion, as well as in home textiles and interior design.

Cross Stitch is celebrating a fresh and contemporary comeback.

Patterns may and can be imperfect, like being incomplete…

Fascinating 3D structures make a pattern airy and breezy.

Alienation Effects – to interpret natural designs by using geometric structures or grid like elements are breaking established rigidities.

Using glow-in-the-dark threads surprisingly alienates well-known natural patterns.
Reiner Knochel for Gunold, August 2020