02/03/2023 –
Embroidery and textile decoration
— auf Deutsch lesen
Gunold's trends in summer 2024
Strength, joie de vivre, hope and energy – that is what the color of the year 2023 "Viva Magenta" is standing for. Reiner Knochel was inspired by it and put together the trends summer 2024 for Gunold.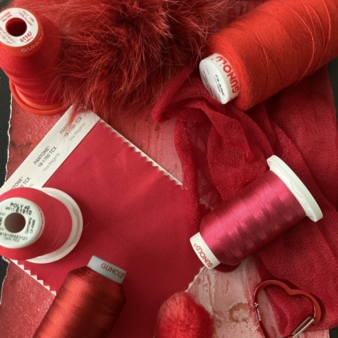 Everything revolves around nature
2024 flowers stand for summer feeling and offer a wide range of implementation possibilities. Where there are flowers, beetles, bees and insects should not be far away. We've realized how important these little critters are to all our lives, so designers are letting them crawl and fly everywhere. Preferably provided with positive messages that should make us think about more sustainability.
Cool naturalness is once again appreciated – in structures of fabrics and colors. Wherever possible, cotton and other genuine organic materials are incorporated. The structures of fabrics and surfaces are becoming rougher, wilder, more untamed. Natural colors like white, off-white, shades of brown and natural tones of all kinds are also becoming more important.
Denim remains important
Denim is always a popular theme in summer. Pimping jeans and changing them with seams, embroidery, appliqués or other textile manipulations - this is one of the trends that can be seen both in the "new" collections of major brands, as well as among end consumers who go through the closet and give new life to the previously unworn piece.
Faces & transparency
Like nature, faces are making a comeback and are showing up in great variety, for example only in contours or also transparently backed in layering technique. In general, no one can ignore transparent looks in the summer. There is a lot of experimentation and playing with variations of translucent and transparent materials and effects, often in combination with high-gloss elements of all kinds. Gold, warm spice colors and the most diverse multicolor variations now bring style and variety to the collections. The same applies to harmonious color gradients from light to dark or vice versa. These so-called degradé effects always refine surfaces, whether woven, printed or embroidered, in a particularly refined and sophisticated way. The embroiderer's high level of expertise is particularly evident in embroidery.
Airy, light embroideries bring a touch of "smart textiles" into play. Discreet during the day, the motifs surprise in the dark when they shine thanks to luminescent embroidery threads. Hearts always go!
In summer 2024, the classic comes back and shows itself multilayered, alienated, playful and never too smooth and sweet.