22/11/2019 –
Interview with Michael Ryan
— auf Deutsch lesen
What is Sportswear Pro?
Fespa is expanding its textile portfolio to include Sportswear Pro. A new trade fair that focuses exclusively on the production of sportswear.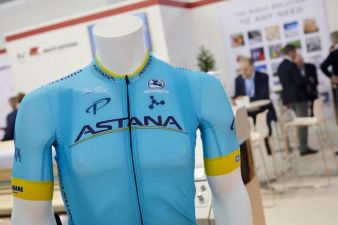 The first event will take place from 24 to 27 March 2020, parallel to Fespa Global Print Expo 2020, at Ifema in Madrid. To find out more about this, textile network spoke with Michael Ryan, Event Manager for Sportswear Pro.
textile network: What led Fespa to launch Sportswear Pro?
Michael Ryan: The most recent Fespa Print Census revealed that 84 percent of respondents from the Fespa community are involved in textile print, including garment printing. Investigating those figures further, it transpired that the top performing garment segment is sportswear. From a technology standpoint, the synergy for Fespa is that sportswear production is the leading industry sector for sublimation printing, which is one of our key exhibitor groups. In fact, some of the biggest launches at Fespa Global Print Expo 2019 in Munich were textile and dye sublimation printing systems capable of printing onto polyester, a popular fabric in the sportswear industry.
textile network: Who are the main visitor and exhibitor target groups for Sportswear Pro?
Michael Ryan: We want Sportswear Pro to inform and inspire sportswear designers and manufacturers with the opportunities enabled by the latest garment print technologies and material innovations. Exhibitors fall into these core areas: design (CAD/CAM and 3D body scanning), production (CMT ['cut, make and trim'], bonding and knitting) and decoration (printing, engraving, embroidery and laser appliqué systems), along with developers of accessories, smart textiles and printed electronics. As for visitors, we are working to attract business decision-makers in sportswear manufacturing who are looking for technological innovations to streamline production processes, reduce inventory and waste, and enable on-demand and just-in-time production in response to shortening fashion cycles.
textile network: In what ways will Sportswear Pro appeal to regular Fespa Global Print Expo visitors?
Michael Ryan: Sportswear Pro will complement Fespa Global Print Expo's existing garment printing proposition. It will add an extra dimension for visitors with an interest in garment printing, decoration and sportswear production, showing new business opportunities and an overview of innovative production processes specific to this segment. Sportswear Pro will be key to spreading awareness of the Fespa brand to niche segments of the textile industry that aren't as familiar with what we have to offer.
textile network: How do you plan to show visitors where the crossover between print and sportswear is?
Michael Ryan: Sportswear is a fast-growing niche and will be of interest to our visitors already active in garment printing. We'll be illustrating this crossover via Print Make Wear, the popular fashion factory feature that was launched at Fespa Global Print Expo 2018. In 2020, Print Make Wear will be focused exclusively on customised sportswear production, providing a natural bridging point between Fespa Global Print Expo and Sportswear Pro. The feature will provide a comprehensive overview of the garment production chain, from initial design to final product, while also giving visitors the opportunity to print a personalised sportswear garment on site.
textile network: What has the response been to the event so far?
Michael Ryan: Since we announced Sportswear Pro in May 2019, we've had interest especially from companies specialising in bonding, cutting, CAD software and other areas of garment production. We're also delighted with the response from Afydad, the Spanish Sportswear Association, which has confirmed its official support for Sportswear Pro. Afydad will promote the event with its members in the run-up to the event and will also take part in some of our features.
textile network: What trends and themes do you think will be prevalent at Sportswear Pro?
Michael Ryan: A lot of the trends currently affecting sportswear manufacturing are also reflected in the wider print industry. For example, customers now expect their purchased items to be personalised and delivered within 24-hour timeframes, which means more businesses need to be able to offer on-demand production and mass customisation as part of their services. Consequently, manufacturing is gradually becoming more localised in order to respond to consumer demand more efficiently.
Social media is also influencing trends and having a knock-on impact on production. The traditional model of fashion brands rolling out seasonal collections at pre-planned dates won't have a future for long. Now a new item or look can become popular through the sheer amount of engagements it gets on social media platforms. The industry needs to become more reactive to trends and styles that are emerging online. Also, as in print and other industries, sportswear production is affected by increased expectations regarding sustainability, as well as ethical production and business practices. This has led a growing number of global manufacturers to re-evaluate the materials and practices they employ.
textile network: Can you share any information about the accompanying programme yet?
Michael Ryan: Our educational programme will take the form of a 'triathcon', a series of conferences and seminars running over three days in a dedicated theatre. Sessions will focus on three key topic areas: on-demand customised production; sustainability, which will cover both materials and production; and smart wearables. We will begin to share further details on keynote speakers in the coming months.
Mr. Ryan, thank you very much for the interview!
The questions for textile network were asked by Iris Schlomski.