So much for orange-peel skin!
Nature has a lot to offer, the orange leather from Elise Esser lets nature be nature and does not require any chemical additives.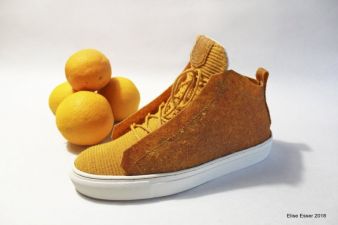 Every year, many tons of waste orange peel are generated by the fruit juice and food industries. In order to give the peel of citrus fruit a second chance, designer Elise Esser has been experimenting with orange peel as part of her Master's course at the Niederrhein University of Applied Sciences, and has discovered a new material in the process.
100 percent biodegradable material
Her aim was to develop an alternative fully biodegradable material for a range of applications. During development, the orange skins were combined with a small quantity of biopolymers to ensure stability. In production, the structure and flexibility of the material can be adjusted according to requirements.
This orange leather consists solely of natural vegetable materials and can readily be composted. Its colour is determined by the colouration of the fruit and requires no additional colourants. A positive side-benefit of the material is that it appeals to more than one of the senses, as it retains the fresh and fruity odour of the fruit for a considerable period. In the future, it will be possible to use orange leather as a sustainable alternative material in a number of different fields including, for example, interior decorating, fashion and accessories. The designer has produced a sneaker made of orange leather in order to demonstrate its possible applications. Other materials similar to orange leather are currently under development.
Elise Esser, M.Sc. Textile Produkte Design
Hochschule Niederrhein