28/03/2017 –
90 Years of Experience Gunold GmbH
— auf Deutsch lesen
"Cry" – Crying with Happiness!
Finally there is a reflective embroidery thread! Gunold in Hall 6.0 Booth B59 at Texprocess 2017, Frankfurt, presents innovative threads that inspire.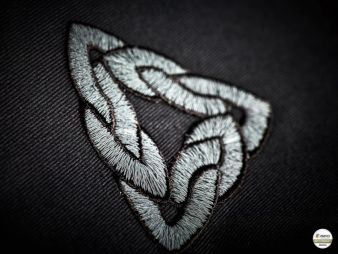 At this year's Texprocess, Gunold's booth will sparkle and glitter! In time for this year's 90th anniversary, the renowned company from Stockstadt has added a real thread innovation -Cry-to its extensive range of threads.
The special feature of this thread innovation is retro-reflection caused by thousands of microscopically small glass beads. Glass beads and thread? Until recently this combination seemed technically unthinkable and indeed the realization is truly a masterpiece! Marketing Manager Stephan Gunold is particularly enthusiastic about the latest product of the company's extensive range of threads: "We are absolutely convinced of Cry. It is extremely innovative and allows for completely new optics on textiles, offering exactly what companies are currently looking for most A novelty that combines function and design."
Magic Word Reflection
Cry has a polyamide core that is covered with a polymer coating to bind the reflective glass microbeads to the thread and that is the snag: The microscopically small glass beads need to be set in such a way that the appearance is as homogeneous as possible and that they do not fall off during regular wear and tear. And of course it goes without saying that the thread must be perfectly suited for embroidering and sewing.
Not an easy thing to achieve, therefore innumerable embroidery, and sewing tests needed to be passed before Gunold greenlighted Cry. "We offer a range of high-quality threads and must be sure that these keep what they promise", Stephan Gunold assures.
For Cry the promise to keep is high quality combined with retro-reflection." Retro-reflection occurs when a reflective material returns the impinging radiation to the direction of the radiation source, largely independent of the direction of the reflector. This is particularly recognizable in the dark. Cry is visible from a distance when used in appliqués, decorative seams or large-scale embroideries. It not only provides protection to the wearer, but also creates fascinating sparkling effects in the dark.
Innovative Threads that Inspire
In addition to the latest thread innovation Cry, Gunold will be exhibiting the entire product range of embroidery materials, a unique range of embroidery threads, films, nonwovens, effect materials and other auxiliary materials in Frankfurt. So look for embroidery thread Sulky (viscose), Poly (polyester), flame-retardant Poly Fire or Glowy and Flour which both glow in the dark. Furthermore Gunold offers an unrivaled variety of embroidery nonwovens in different weights and grammages including tear-aways, cut-aways as well as adhesives, which guarantee the best embroidery results for each and every base fabric. In addition to the nonwovens, films now play an increasingly important role; heat-soluble and water-soluble films are functional products, which the consumer does not even notice, but make his embroidery strikingly beautiful. Gunold's specialty fabrics, e.g.Step, Felty, Twilly or Puffy, inspire creativity and adhesive sprays, needles scissors and even more specialty products complement the current range of products. In order to be able to show the application of their products, Gunold will have an embroidery machine at the booth and will be able to inspire the professional world with live demonstrations
Highlight Cry
Cry is made of 100 % polyamide and is available in silver and two different strengths which correspond to a size 12 (250 micron) and size 30 (200 micron). Gunold recommends the thicker thread (250 micron) for sewing and weaving and the somewhat thinner thread (200 micron) for embroidering. Cry is certified according to the Oeko-Tex Standard 100 and is suitable for use with high-visibility clothing (DIN EN 471) according to ISO 20471 2013 but certification is only possible on the basis of finished goods. Cry is available on mini-king cones of 500m, 10 cones to a box.?
Gunold at the Texprocess, Frankfurt
Hall 6.0 Booth B59