20/07/2020 –
UL testing and certification body
— auf Deutsch lesen
Five steps to detox fashion: Chemical management for a more sustainable textiles industry
In the production of textiles and footwear, innovative paths are increasingly leading away from the use and release of hazardous chemical substances into the environment.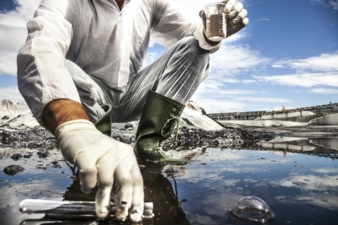 Awareness for environmental concerns, health, safety, and sustainability in global supply chains is steadily rising. Organisations and consumers are increasingly demanding greater transparency and additional information about where and how products are made and the substances they contain. At the same time, however, supply chains in the textiles, footwear and leather goods industry are becoming ever more complex as the number of raw materials, products, and suppliers continues to multiply. As a consequence, it is becoming more and more difficult to monitor the cumulative environmental impact of a product as it progresses along the supply chain.
The use and release of hazardous chemical substances in the production of textiles and footwear can damage waterways, flora, and fauna, as well as human beings. This negative impact prompted Greenpeace to launch its "Detox my Fashion" campaign several years ago. The industry responded by devising the Zero Discharge of Hazardous Chemicals (ZDHC) Programme which has become so successful and effective that Greenpeace has announced it is scaling down its campaign.
The ZDHC plan: A comprehensive approach to sustainability in the supply chain
The ZDHC Programme provides companies with guidelines and support in implementing a sustainable chemical management programme. It focuses on limiting and substituting specific substances in the production process by checking the quality of the wastewater. The ZDHC's Manufacturing Restricted Substance List (MRSL) helps them identify harmful chemicals that should be avoided. At the same time, recommendations are made for replacing harmful substances with more environmentally friendly alternatives. In doing so, it is not just the individual products and raw materials that are considered but the entire supply chain, too.
Detox in five steps
The goal is an ambitious one: to detox the fashion industry within a single generation. But how can managers gain an overview of the chemicals used in their factories? There are several fundamental recommendations that companies can implement to improve the sustainability of their supply chain:
Step 1: Obtain and share the right information and plan ahead
The first step is to identify clear goals. This involves compiling an exact list of chemicals that need to be phased out of the production process along a clearly defined timeline. Laws and regulations are constantly being adapted to new and ever-changing parameters. For this reason, companies would be well advised to develop an action plan that allows them to respond flexibly to changing requirements. Factory managers should always be kept in the loop about these plans. In fact, all companies involved in the supply chain should be informed in a timely manner of any changes to the requirements and demands.
Step 2: Create transparency within the supply chains
To fulfil the ZDHC plan, it is important that the company understands how far it still has to go to meet its goals. To do so, it is necessary to take a closer look at the supply chain. This is the only way to identify possible improvements, to develop company guidelines and to introduce alternative solutions.
Factory audits which examine whether processes, requirements and guidelines meet the necessary standards are a good approach to analysing a supply chain in detail. Environmental audits additionally look at the management of air, water, energy, disposal of industrial and hazardous waste, contaminated soil, and groundwater pollution.
Step 3: Implement rigorous chemical management
A chemicals management system is a systematic approach to the sourcing, storage, use and recycling of chemicals within a system or plant. It encompasses everything from the compilation of a list of restricted substances and an inventory of chemicals to the implementation of a suitable testing programme that takes the entire supply chain into account.
It is moreover important to ensure that the authorisation process for raw materials and chemicals as well as the criteria for selecting suppliers are all standardised. Last but not least, a thorough chemicals management system should also include chemical checks at all production facilities along the supply chain.
Step 4: Introduce the right measures through testing
Wastewater samples should be checked to see whether the water quality complies with the specific technical standards set down in the ZDHC wastewater regulations. Using the wastewater test sheds light, for example, on whether the production facility is using high-risk or even banned substances. This can lead to the introduction of further safety measures or removal strategies. Companies should test not only their wastewater but also their raw materials for chemicals.
Step 5: Define suitable corrective and preventive measures
Even after good planning, analysis and initial tests, chemicals managers still face several challenges. In the final step, they have to replace hazardous substances with more sustainable alternatives. As a preventive measure, an implementation plan should be drawn up for the entire supply chain covering the chemicals featured on the Restricted Substances List (RSL).
Elisa Gavazza, Global Lead for Chemical Management, UL
Elisa Gavazza has 15 years' experience in the field of regulations and quality assurance. She manages a European team responsible for the processes and test protocols relating to safety requirements in the field of consumer goods. She also holds technical seminars to help manufacturers understand international regulations and standards, whilst also taking part as a technical expert in European legislative activities.
About UL
UL offer manufacturers and retailers a range of flexible solutions for bringing safe and high-quality products to global markets quickly and efficiently, whilst also curtailing their environmental impact. UL is an official member of the ZDHC Programme, a certification body recognised by the ZDHC's MRSL Conformance Guidance and an accredited training provider.