Screen printing with microalgae
In an interdisciplinary master thesis at Bielefeld UAS, Anne-Marie Sust has developed innovative dye paste based on microalgae to print on textiles.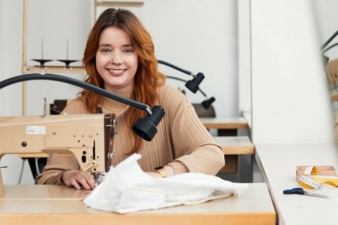 She was supported in developing the paste by Dr Vanessa Homburg from the working group "Fermentation and Formulation of Biologicals and Chemicals" n the Department of Engineering and Mathematics. Dr Homburg herself holds a doctorate in the field of microalgae. When she heard of the fashion student's project, she was instantly fascinated by the idea of using the broad spectrum of microalgae for purposes other than her own experiments: "I was sure that it would be possible to use microalgae for dyeing. Nevertheless, based on my own experience, I assumed that this idea would not be easy to put into practice." The scepticism did not last long, however: The very first obstacle they had anticipated – the exchange of conventional pigments from petrochemicals against microalgal pigments – turned out not to be problematic at all. "To be honest, we were quite surprised that we were able to produce a dye paste without the microalgae clotting or losing their colour," says Homburg.
Concerns that the colours might fade when exposed to UV light were unfounded, too. This is partly due to a special base paste containing UV protection. Anne-Marie Sust optimised her method for fixing the dye in the fabric in many test series, in order to increase the prints' stability against abrasion (e.g. touching the colour) or when washing. "The exact composition will remain my trade secret," the graduate says.