22/01/2020 –
Sustainability, innovative embroidery nonwovens and threads are the focal areas
— auf Deutsch lesen
TV TecStyle Vision: Gunold
Gunold GmbH at TecStyle Vision 2020, Stuttgart, Germany: Many new products for promotional wear in 2020!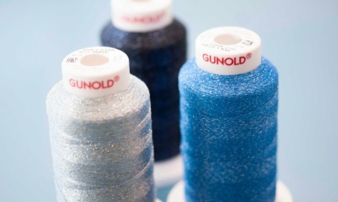 Embroidered, printed, flocked, appliquéd – TV TecStyle Visions 2020, which will take place from 30 January to 1 February 2020 at the Stuttgart Exhibition Centre, is the leading trade fair for textile finishing and promotion in Europe. Gunold GmbH from Stockstadt will be there right in the middle and has been an exhibitor right from the start.
Quality you can touch
"Visitors to our stand C51 in Hall 1 will find a unique range of products paired with lots of information about embroidery and numerous inspirations for our threads, nonwovens and effect fabrics," announces Marketing Manager Stephan Gunold. Especially in the range of embroidery nonwovens there are many innovative new products to discover. The nonwovens, films and effect fabrics will be on display in rolls, from which every visitor may cut off a sample for testing purposes. "With regard to sustainability, we will also be presenting a number of product innovations in Stuttgart," stresses Stephan Gunold.
Every two years...
The Stuttgart trade fair TV TecStyle Visions, which takes place every two years, is always a very special trade fair for the renowned company from Stockstadt. The company for everything around embroidery needs has once again come up with something very special for its trade fair presentation in 2020. The stand will be open to all four sides and will allow visitors to easily inform themselves about the offers of Gunold and its co-exhibitors Constitch (Massimo Baezzato) and Embcon (Dennis Ermert), both specialized in digitizing.
Spacious Booth Design
Thanks to the spacious 64 sqm booth layout, there is plenty of room for discussions and consultation. "As always, we are happy to provide information on how and for what purpose the embroidery materials offered can be best used or demonstrate solutions for embroidery applications. We are happy to advise and help wherever we can and with any embroidery problem," says Stephan Gunold. "In line with this, we will also be providing information on the contents of our new seminar series 2020 at the trade fair."
And What's the Latest for more Sustainability?
Sustainable products are becoming increasingly popular with consumers and soon consumers will prefer sustainable, clean alternatives to today's products. Gunold is well prepared for this and has been committed to environmentally friendly products for many years. Gunold is even one of the leading international companies when it comes to sustainable and resource-saving embroidery thread production.
Stephan Gunold: "With our high-quality viscose and polyester threads from European production, which are produced in a water- and energy-saving way, and thanks to short transport routes that stand for low CO2 emissions, we indeed hold our own with regard to sustainability. If you are looking for embroidery materials and want to rely on high-quality, sustainably manufactured products, you are in good hands with our company."
We create ideas! The new products from Gunold GmbH in 2020
Threads
It glitters and sparkles and is nevertheless very soft. The new Poly Star is hard-wearing, sparkles in a total of 54 modern, vibrant colours, is very gentle on the skin and also complies with Oeko-Tex Standard 100. With conventional metallic threads there is always the unpleasant scratching on the skin. Poly Star is completely different – a sparkling, glittering effect thread that also feels pleasant on the skin.
Poly Star, which is available in 54 shades, is offered in size 30 (NM 47, dtex 210) and available on Miniking cones. Gunold offers the 54 colours in a drawer box especially for patterning purposes.
Badges and Emblems
If logos, appliqués and emblems are to be shown to their best advantage, it is worth using Twilly (twill fabric) or Canvay (canvas fabric). Both fabrics have a permanent nonwoven coating on the back. This results in sturdy fabrics without giving up the textile structure.
New in the range is Twilly Soft and Canvay Soft, a much softer version for soft patches. The nonwoven coating is also much lighter with 70 g/m² (instead of 115g/m² as with Twilly/Canvay Standard).
For embroideries, emblems and appliqués, felt and thus Felty is also ideal, which is now available in 11 new colours and thus available in a total of 24. Felty is soft, yet dimensionally stable and the embroidery needle is not deflected when piercing the felt. This allows high-quality appliqués, emblems and badges to be produced without any problems.
Nonwovens
For perfect embroidery results you need the right base fabric, high-quality thread – and always a stabilizing backing that brings out the best in fabric and embroidery program! The Gunold embroidery nonwoven range offers the ideal reinforcement for every type of material. And to keep it that way, the product range has now been extended:
Stiffy 1975B black and white; the softer nonwoven variant for durable nonwoven coatings, e.g. as used for Twilly Soft and Canvay Soft
Stiffy 2055; white + black, 100 percent polyamide, cutting nonwoven for light to medium fabrics
Texti 1875; white, 51 percent viscose/41 percent cellulose/8 percent polyacrylate, 75g/m², tear-off nonwoven for heavy fabrics
For the nonwoven cuts, Stiffy 2040 is now also available in 33x40 cm and Stiffy 1650 in 35x40 cm formats.
Airduster and Airduster-Power
With Airduster and Airduster Power impurities, thread fluff or dust on hook, needle bars, thread trimmers etc. belong to the past. At the touch of a button, any kind of dirt is removed even in previously inaccessible places. With the two compressed air cleaning sprays, cleaning and care is as easy as child's play, even in previously inaccessible places on sewing and embroidery machines. And well-maintained machines last longer and improve the quality of the product produced!
Both sprays are guaranteed oil-free, condensate-free, non-toxic, odourless and suitable even for sensitive surfaces. The spray cans made of tinplate are available in 400 ml cans and are each equipped with an additional capillary tube for precise cleaning of hard-to-reach areas. The spray itself consists of aerosol (propane/butane).
Accessories
Last but not least, there are two new additions to the range of accessories: the Organ needles are now available in two additional sizes 60 and 60 SES for the PD needles (particularly robust needles). And ideal for precision work like catching threads and dirt particles: the new practical tweezers in red and size 11.5 cm.
Gunold at the TecStyle Vision, Stuttgart
30 January – 1 Februar y2020
Hall 1, Booth C51